Michelle Crepeau takes on role of Dean of the Class of '21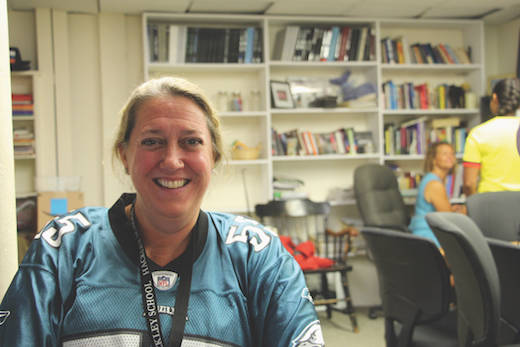 With the start of the new school year, French teacher Michelle Crepeau steps into her role as dean of the Class of 2021. She enters the dean team with an ardent sense of enthusiasm and excitement for her opportunity to help guide the freshman class through the next four years.  
Although this will be Ms. Crepeau's first year as dean, she is no stranger to the Hilltop. She began her stint as a French and Spanish teacher in 1993, taking a break to raise her four children. During her tenure at Hackley she has acted as an advisor, coached tennis and soccer, and has helped out in the Admissions office.
In her language classroom, Ms. Crepeau loves the chance to meet her students on a personal level and believes that this skill set will translate well to her new role as dean.
"Much of my class time is based on conversation, during which time I get to know my students better. In this time of screens and social media, I really emphasize the importance of talking to each other face to face, and in my class, in French. I intend to use this to get to know my students better and help them."
Ms. Crepeau was drawn to the opportunity to mentor a class throughout their high school experience because of the opportunity it provides to engage with a group of students  beyond just the classroom setting. "I have loved teaching at Hackley but always felt like I missed out on getting to know a whole grade, so when I heard about the opening for dean, I was interested. I also love the idea of welcoming the 9th grade students to the upper school and helping them transition to this division and become more independent."
"
"For the 9th grade year, my biggest challenge is to help the students acclimate and get comfortable here, even those coming up from the middle school."
— Michelle Crepeau
While her role will evolve in the following years, Ms. Crepeau views her most important responsibility as helping the freshmen transition into the Hackley community. Her biggest goal is teaching them to embody the school motto "enter here to be and find a friend" and bond as a class.
"For the 9th grade year, my biggest challenge is to help the students acclimate and get comfortable here, even those coming up from the middle school. I hope they will embrace our motto and start developing lifelong friendships. Over the next four years, the focus might change a bit more to academic support, and vary on the needs of the students, but I will still emphasize the students supporting each other, and building connections that will help them in life."
When she is not acting as dean, teacher, coach, or advisor, Ms. Crepeau can likely be found reading, playing tennis, catching a musical in the city, or spending time with her family. After all, she credits her children with much of the positive energy she is able to bring to the classroom: "I…learn so much every year from my own children and my students, and they inspire me to do my best every day."

Hang on for a minute...we're trying to find some more stories you might like.