What We are Reading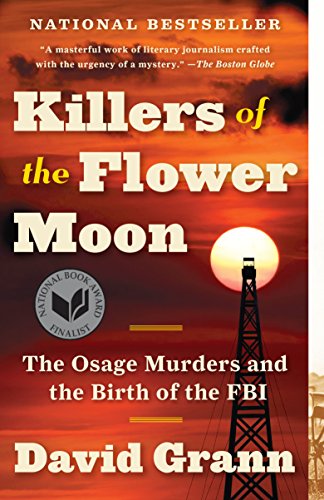 Killers of the Flower Moon
Upper School head Andy King is currently reading David Grann's Killers of the Flower Moon: The Osage Murders and the Birth of the Flower Moon.
King said, "[The book is] a wonderful example of narrative nonfiction, which I think is a genre that many students would really enjoy."
This nonfiction novel tells the story of a Native American Tribe, the Osage, rise to wealth through the purchase of oil-rich land in Oklahoma. The book also gives a historical account of the subsequent murders that occurred in the Osage community and the birth of the FBI.
King said "I'm only fifty-eight pages in and I wanted to not do my job and just read the book. That's how gripping I find this book… For me as a history teacher and student I'm really excited to keep reading on this."
The book is a New York Times Best Seller and National Book Award Finalist. It was also recently announced that a movie version will be produced.
Tell The Machine Goodnight
English Teacher James Flanigan is reading Katie Williams' sci-fi novel, Tell the Machine Goodnight. The book was released just months ago and is gaining traction in the literary community.
This dystopian book tells the story of Pearl, who works for a company that makes machines called Apricity machines. These contraptions use a swab of DNA and an algorithm in order to produce advice on the three things a person must do to be happier. The novel is a collection of perspectives from people in Pearl's life and focuses on their relationships to technology.
"It's a cool contained way of looking at tech equals happiness," Mr. Flanigan said.  
Crown of Midnight
Freshmen Sophie Miller is currently reading Sarah J. Mass's Crown of Midnight. It is the second book in the New York Times Bestselling Throne of Glass series.  This fantasy novel is told from the perspective of a hired assassin, Celaena, for the Throne of Glass. The assassin must act loyal to the king while simultaneously working against him.
"The main character tries to pretend she's really strong and doesn't really have emotion but really she's just like anyone else and is relatable in some ways," said Sophie.
The novel is a thriller full of twists and is an exciting read
"I like a book that makes you forget whatever else is going on," said Sophie.