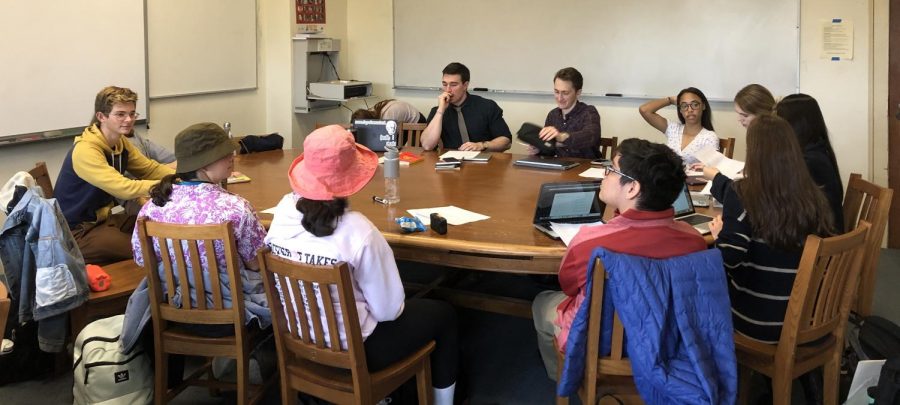 Ella Jones
Swap lab coats and petri dishes for Harkness tables and JSTOR, and explore the new opportunities for research in the humanities at Hackley. This class, entitled Independent Research in English and History, is a new addition to the course catalog for the 2019-2020 school year. 
In the minor, students can opt to explore a topic in English or History, and work with English teacher James Flanigan or History Department Chair William Davies, respectively. Students enrolled in this course must hone in on a specific topic or idea, as is the case with the well-established Independent Research Program in science. The enormous amount of information and analysis that students amass throughout the year will culminate in a research paper submitted in June. 
Topics for these research projects are entirely student driven. This year, they span a wide array of niche interests, from senior Emma Brennan's exploration of Irish rebel songs of the early 20th century to senior Chiara Kaufman's analysis of James Joyce's use of stream of consciousness narration. Students enrolled in the course were also tasked with a summer assignment prior to its commencement: reading texts related to the general theme of students' topics in addition to excerpts from Wayne C. Booth's The Craft of Research.
In order to crystalize the specific research question students will answer in their thesis-like paper each student presented their to-date research to the class this past October. This presentation allowed students to verbally articulate their ideas and entertain suggestions from their peers. Aside from presentations, daily classwork usually consists of individual research (reading and finding sources) as well as meetings with research advisers.
Seventeen students have taken advantage of this unique opportunity and braved the dense language of textbooks and intimidating blank Google documents. Thousands of words and many months later, Hackley upperclassmen can confidently assert their experience in research in the humanities.