Deeya and Divek develop injury-prevention for the visually impaired
When senior Deeya Patel and junior Divek Patel were in middle school they were part of a robotics team outside of school. While examining the relationship between humans and animals, Divek and Deeya discovered that "over 10% of visually impaired people suffer from head injuries." Realizing how many people this affects, they began to think of ways that they could provide aid to the visually impaired. 
The products that help the visually impaired avoid potentially dangerous obstacles in their way that Deeya and Divek came across when researching existing products on the market were either too expensive or unsuccessful at preventing head injuries. One of the best injury-preventing products are electronic glasses that recognize objects and faces; however, they cost $9995. Another useful yet expensive product are electronic glasses that stream live video to a trained agent who assists the visually impaired person. Other available products include wrist-mounted sensors or technology-assisted white canes; however, these are susceptible to being damaged. More affordable options include a white cane or a guide dog, but both of these options result in a "large amount of injuries that could be prevented," according to Deeya.
With two friends from their old robotics team, Deeya and Divek came up with an idea for their device: an affordable and lightweight product that would identify objects in the way of the user. 
The first prototype they designed used a 360 Kinect sensor to detect obstacles by making a louder noise the closer the device got to the object. They donated the product to the New York Institute for Special Education for testing, and although they received a lot of positive feedback, some of the students explained that it was often difficult to hear the noise the device made when they were walking the loud streets in New York City and the Bronx. They also suggested making the device smaller and more lightweight and having it recognize what obstacles are in the way.
After they had created their first prototype, Deeya and Divek, together with their two friends, applied to and won some competitions hosted by Johns Hopkins, Duke University, and Harvard University. Deeya and Divek also individually applied to Hackley's Russ Hogg Grant and received $1,250 to help them continue to fund their project.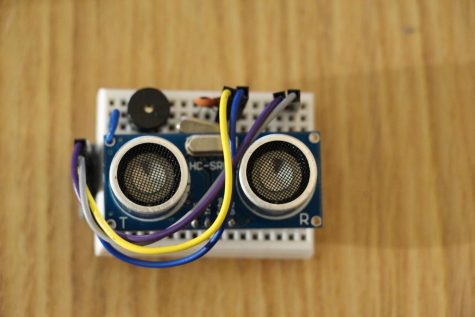 When the Patel siblings revised their prototype, they designed an app that connects the device to the user's phone so that instead of using sound to signify an approaching object, their phone would vibrate. This is a skill that they learned from the Post-AP computer science class at Hackley, which is taught by Ms. Tranchida. Both of the siblings thanked Ms. Tranchida who offered support and help throughout the process. In addition to designing an app, they also made a prototype four times smaller than the original. 
They also made a prototype four times smaller than the original. 
When deciding on a name for the device, they looked for a catchy name that conveyed the "third eye" nature of the invention. Divek eventually came up with the name AI4VI, which stands for Advanced I-Sight for the Visually Impaired.
They filed for a patent in July, and hope to hear back and receive the official patent soon. 
Going forward, Deeya and Divek hope to incorporate a camera into the device in order to inform the user what object is in their way. However, this proves to be difficult for them because finding a somewhat affordable camera is near impossible. Once they finalize the product, they will use the remaining money from the Russ Hogg Grant to produce as many devices as they can donate them to schools.