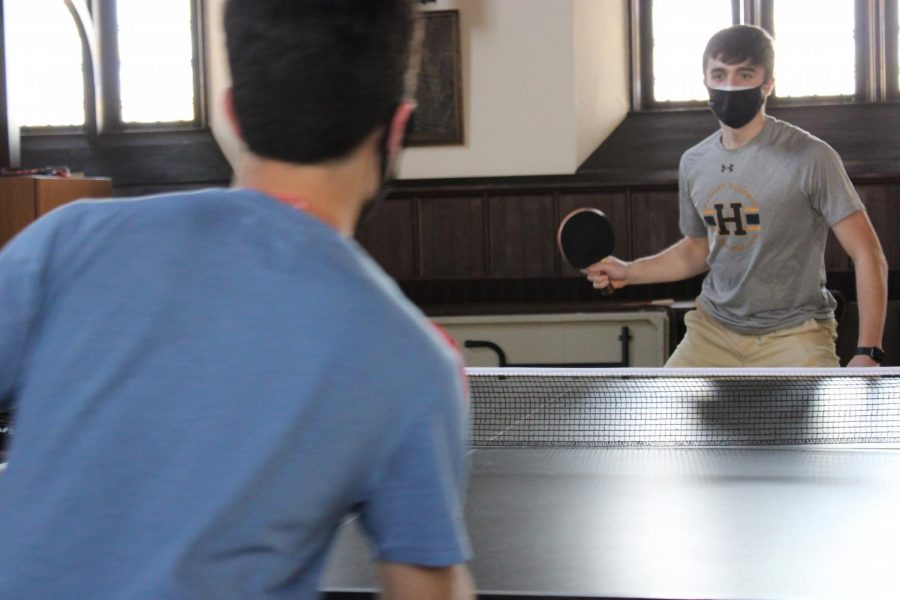 Nicky Wind
By March, many students are stressed with work leading up to break. The Hackley Ping Pong Club, led by junior Sid Shah and senior Ishann Ratliff, came up with a fun solution to relieve stress: an upper school-wide ping pong tournament.
The club was started by Sid and Ishaan last year and quickly grew very popular. "Ishann and I both love ping pong and played all the time pre-covid. It lets us destress and have fun so we decided to bring it to Hackley,"  Sid said.
In the club's early days, they played on the Harkness tables in English classrooms during community times. They had a decent amount of club members, but in March last year, they decided to take it to the next level. The two leaders, along with senior Arjun Dayal, rented a U-Haul and brought their own ping pong table to Hackley. They set the table up in Allen Hall and it quickly became a big hit.
With the increased participation in the club, they came up with a great idea. "We thought a tournament would be the best way for us to spread our love for the game," said Shah, "More than anything Ishann and I saw it as an outlet, and especially during midterms it really helped students de-stress."
Last year's tournament was a success with about 64 participants. Filled with many intense games, students were able to distract themselves during the stressful exam weeks. Not only by playing, but also by watching the tournament games.
"While the tournament was very successful, this year we wanted to get more girls involved, as well as teachers," said Sid.
This year's tournament included 16 teachers, 16 girls, and 48 boys, and has been just as successful. The club also handed out brackets for students to fill out to get more people involved. After many intense games, the two club leaders, Sid and Ishann, met in the finals. Ishaan won the finals after seven games and was crowned the winner of the 2021 Hackley Ping Pong tournament. Many students reported having a great time playing, and look forward to next year's tournament.