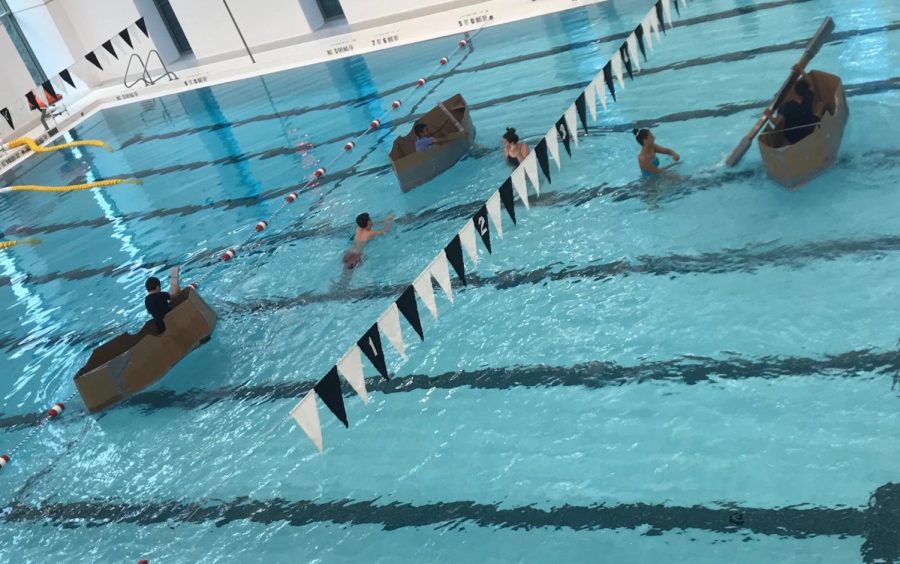 Credit: Sydney Stoller
Freshmen compete in annual boat race
Sink or swim; those were the only options for freshmen as they competed to create the winning boat of the regatta. On Friday, September 6th, an energetic and competitive spirit filled the air as the freshmen used nothing but cardboard and duct tape to create boats that eventually would put to the test of seaworthiness in the Hackley pool. 
The day kicked off with a scavenger hunt to gather materials located throughout the Upper School to use for the construction of the boat. Once all the materials were gathered, advisory groups began designing and building their boats during the morning session. 
Advisories got creative with their designs and boat names. Most notably Mr. Green's advisory named their boat- the "Green Bean" and Mr. Karpinski's dubbed theirs – "Special K". 
Students took a break midday to enjoy a barbeque lunch outside on the quad. After lunch, they walked their boats from Akin Common to the pool and put their boats to the test. Each group paddled their boat as long as it would stay afloat. The winner would be the boat that stayed afloat the longest. Teachers and students gathered on the bleachers above the pool to cheer the groups on. 
This year, Mr. Sykes' advisory's the "Syklone" took the win in the boat regatta. They credit their win to their pontoon boat design, its rectangular form enabled their boat to stay afloat for the longest amount of time. 
Freshmen concluded their day of competition and fun with an awards ceremony that recognized the three most successful boats.