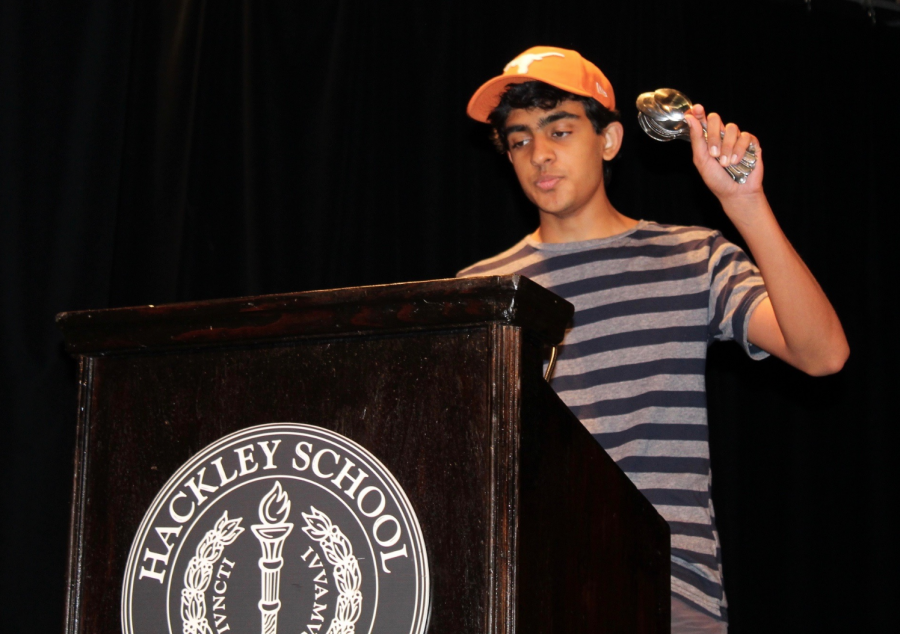 Credit: Eki Uzamere
Juniors craft and perform personal speeches
Public speaking can be an overwhelming fear, but, done right, it has the potential to be unbelievably rewarding. On First Friday, juniors were split into eight-person groups, meeting in various locations over campus. They wrote, rehearsed, and produced speeches. After performing them once in their small group, each group voted on the one they believed most valuable to be performed in the Performing Arts Center.
The selected students performed their speeches in front of the entire junior class. Not only did they avoid scar-tissue embarrassment and face the world's biggest fear, they grasped the art of it all, gesturing across the stage, inflecting their voices, pausing for comedic effect, and taking control of the PAC's shadowy platform as seasoned performers would have. 
It was an anxiety-ridden task, but the juniors mastered it and had real fun. At one point, Thomas Bosco dragged a chair to the center of the stage and told a joke about a moth at the podiatrist's office which absolutely killed. 
Rarely do teenagers look forward to public speaking, so no one was expecting such fun from a day like Junior Speech day, riddled with nerves. But nonetheless, First Friday for the juniors was jam-packed with hilarious moments, meaningful speeches, and an informative morning lesson, during which the guest speaker Ryan Ruocco, a sportscaster for ESPN, exchanged fantasy football tips with some lucky audience members and dished on which celebrity athletes were the nicest to talk to. It was a highlight of the day! But the real fun was in watching the juniors perform a diverse selection of speeches—each one more riveting than the next.