Olivia Curran Runs, Swims, and Bikes to the Finish Line of the World Championship Triathlon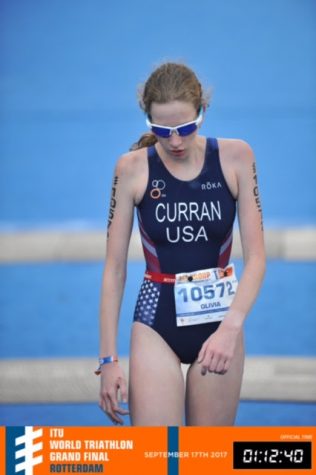 Tri-varsity athlete junior Olivia Curran recently competed in the World Championships in the Netherlands, where she placed sixth out of fifty women in her age group and received All-American status for her performance.
While most high school students spend their summers going to camps and relaxing, Olivia trains for highly competitive international triathlons. "Training for them is kind of tough … and I only train for them during the summer but it's not just like you're training for one sport, there's always a lot to do."
Olivia started thinking about triathlons from a very young age. Her father and brother, a Hackley alumnus, both compete in them, and she started competing in local races at age five. This summer, she trained two hours a day every day, each day focusing on two out of the three triathlon sports: running, swimming, and biking. Before the World Championships, she competed in three local races for practice, where she placed first in two and second in the other.
Of her experience at the World Championships, she said that "besides the extreme stress, [her] experience was very educational because [she] learned the culture of another country, how to handle myself at this level race, and how to be confident in [her]self."
Her family has greatly affected her triathlon career. Her father is her coach and her brother also competes in triathlons, which makes it a bit competitive. "When it comes to triathlon, even though both of us are competitive in it, we have our different strengths and weaknesses so there's never too much comparing."
Unlike the rest of her family, her mom "has no idea what sports are pretty much, so she's always just a good balance for when [Olivia is not] not feeling too motivated to do [her] workouts, because you don't want to have too many intense people around you or else it just gets a little too much."
During training, she usually works with other people so she can talk to them. However, she said that when biking this summer she listened to a lot of throwback music and a lot of Khalid to motivate her during rigorous training sessions.
Much of her focus during these sessions were on running and biking because she can get out of shape in those areas easily. Unlike the the other two sports, Olivia doesn't participate in a biking team, making it one of her biggest challenges.
"On the bike, that's probably where the most technical parts of the race are, and I'm just not used to it because I don't have a team like the other girls do, so I'm not really used to riding with other girls, so when I'm on the bike I'm always just worried about how I'm doing and the next technical turn that's about to come up" Olivia said." So usually when I'm on the bike I'm just waiting for the bike to be over."
Although triathlon has recently been classified as a women's sport for colleges, Olivia is not interested in recruitment for triathlon. She'd like to run in college, but the recruitment process for running is different from other sports in that coaches can't contact a potential athlete until the summer of senior year. Therefore, Olivia is most focused this year on reaching certain times.
"I think the biggest year is junior year and just trying to get your times down…  You're not really in contact with the colleges," Olivia commented. "Until then you're really focusing on which ones you want and the time standards you need to get down to."
As Olivia comes off an incredible summer of triathlon, and winning the NYSAIS championship last track season, Coach Karpinski notes that "this season, already having won the Somers invitational, … Olivia is again hoping for a NYSAIS repeat."