Ilyasah Shabazz, alumna, author, and daughter of Malcolm X, reflects on her time at Hackley
Ilyasah Shabazz is the daughter of civil rights activist Malcolm X and a prominent writer of many books such as Growing Up X and X: A Novel. She also has a new novel coming out later this year co-authored by Tiffany D. Jackson titled The Awakening of Malcolm X.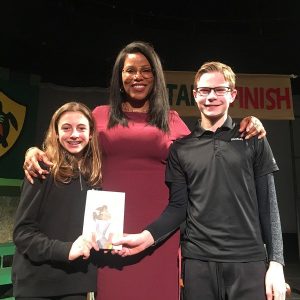 Malcolm X was a leader of the civil rights movement and was one of the most influential figures in American history
. Shabazz is a Hackley alumna and graduated in 1979. She was largely raised by her mother with five siblings. 
Her time at Hackley greatly influenced her career as a writer both through the work of teachers and the love of literature that her intensive classes promoted. She cited the late Arthur Naething, an English teacher at Hackley, as having a great impact on her as a student with her appreciation of literature and love for writing. Hamlet strongly resonated with her and she can still recite parts of a soliloquy she had to memorize for her senior year English class. 
Shabazz's experience at Hackley was mostly positive; however, she does remember noticing there was not a great amount of diversity. In this respect, she believes Hackley has greatly improved: "Today when I go [to Hackley] and I see that they have a club for LGBTQ people, a club for women… I think it is much more diverse and representative of our country."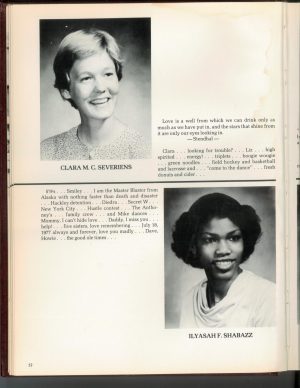 She continued in saying that Hackley "is supposed to be the place where we can experience the diversity of the nationalities in the world living together, and when I go to Hackley today it seems like it is a place where we can truly benefit from this rich multicultural experience." She thinks that in terms of diversity, Hackley has become a great hub of different cultures which is far different than when she was here in high school.
Shabazz's advice for students not just at Hackley, but the younger generation as a whole, is to "realize the power you possess to make a change, and only you will be the one to do it." Shabazz believes that students must do their own research and learn whatever they need to know about contemporary issues to live a more meaningful life and work towards the equality of all people. 
Her biggest takeaway and piece of advice for students is that "life is not about being a lawyer so you can buy a bigger house. It is about being a lawyer so you can fight all forms of injustice. It is not about becoming a doctor to make more money. It is about becoming a doctor so you can help those in disenfranchised communities. When we understand life in that manner, we really do live more meaningful lives."