App of The Month: Marco Polo
Marco Polo is a communication app that allows users to send videos back and forth between friends. The benefit of Marco Polo is that it allows people to record videos and respond at their leisure rather than having to coordinate schedules to accommodate a conversation in real-time, like Facetime. 
Marco Polo has become more popular in recent years as social distancing due to Covid has become a crucial aspect of everyday life (specifically in 2020). 
This app could appeal to Hackley students, or anyone because everybody has their own busy lifestyle where there might just not be enough time in the day to communicate with a friend who doesn't go to Hackley, or who lives too far away to meet up in person frequently. 
One user often uses this app to communicate with her friends from all around the country. "I think it's more efficient than most communication apps because it allows you to respond to the Marco Polos received at any time. It doesn't have to be a planned social meeting," she says. 
Also according to this user, one of the primary benefits and her favorite feature of Marco Polo is the ability to save and replay videos, whether it's a personal reminder of what was said in each recording or something you didn't quite hear the first time.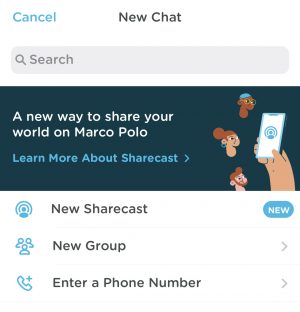 In addition, the app has recently been updated and introduced new features, such as the ability to create group chats, an option for a podcast format, and more. 
Leave a Comment