Student Reactions to New Schedule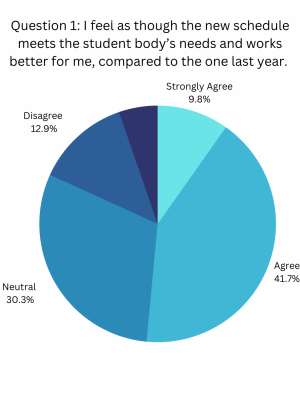 Change can be a very difficult thing to endure. One of the biggest changes to Hackley's students' and teachers' lives in the 22-23 school year is the major changes to the schedule. Students have very different opinions and reactions to the new schedule as change can take time to get used to. Many students have very different schedules which affect their stances on the altered schedule. The Dial spoke to a range of students in terms of grade, course load, and when they came to Hackley. 
Zion Bennett is a freshman who came to Hackley in 8th grade and has a course load of five majors and two minors. Maggie Yalmokas, a sophomore, came to Hackley in kindergarten and has a course load of five majors and one minor. Fox Quattrone, 10th grader, came to Hackley in 3rd grade and takes five majors and one minor. Eliza Podvalny, an 11th grader, came to Hackley in 9th grade and has six majors and two minors. Tommy Troso, an 11th grader, has been at Hackley since 2nd grade and takes five majors (two of which are AP classes), and two minors.  
Eliza Podvalny is not a fan of the new schedule. In terms of the change of class length from 45 minutes to 60 minutes, Eliza finds it difficult to pay attention in hour-long classes. She feels that she does not have the attention span and tends to zone out in class, as classes drag on for too long. Maggie has similar opinions as she noted that it is hard to sit through 60-minute classes. As Tommy has been at Hackley since 2nd grade, he is very used to 45-minute classes and feels that it definitely has been hard to adjust to the longer classes. Fox has felt that 75-minute classes are especially long and definitely has noticed the change. Zion has felt that she has been able to focus more than she thought she would be able to. Although she expressed th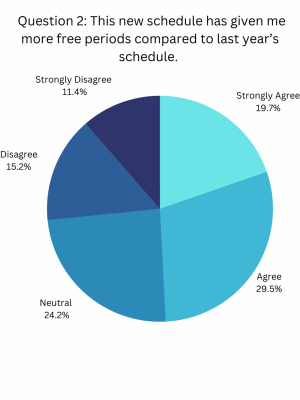 at 75-minute major classes are tough, she loves having 75-minute art. 
Another major change is the number of times classes meet per cycle. Eliza does not like the fact that one class will meet and then will not meet again for a few days. She does like that this aspect of the schedule gives her fewer day-to-day homework assignments, but the more frequent drops of classes make it harder for memory retention of information. Additionally, Eliza likes that fewer classes meet each day. Tommy likes that he has multiple days to do certain homework assignments. On the other hand, it is not as beneficial when he has a test coming up and the class drops a bunch before the test, as it makes it more difficult to review. Maggie feels with homework that she has more days to complete her assignments and the amount of homework is relatively similar to last year when classes dropped less. Fox likes that if he has a lot of sports and isn't able to do homework one night, he usually is able to do it the next day. Zion does not like that classes don't meet as often, as she likes when classes meet continuously. She feels that when she does not have class every day, she is caught off guard when she has the class again. She is still getting used to knowing her schedule as it is not on a circuit.
One issue among students has been the placement of frees. Some students' frees are spread out, but a number of students have days where they have tons of frees and then other days where they have none. This has been seen to be more of an issue with the new schedule than with the old one. Maggie who has a course load of five majors and one minor noted that her frees are pretty spread out. On the other hand, Fox, who has the same course load, frees are not spread out. He has 2 days of the cycle where he has 1 or 2 classes and 3 or 4 days where he has only classes and no frees. He finds this harder to be productive as he has to look farther in advance when completing homework during his frees. Zion's frees are also spread out well. Since Eliza has more classes, they don't have as many frees, therefore their frees are generally spread out although they still have days where they have classes all day.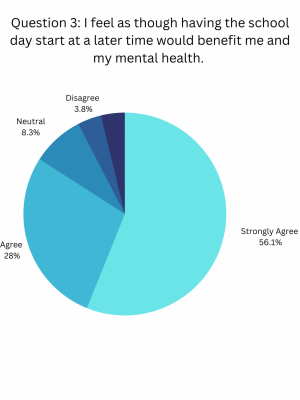 Lunch is an aspect of the schedule that endured big change. On the underclassmen side, students have felt that they do not have enough time for lunch. On days that they have a 75-minute class right before lunch, they only have 15 minutes to eat, which includes getting food, finding a table, and then eating. Sophomore Fox said: "On the first day of school I could not find a seat." Lunch has been very chaotic and crowded in the lunchroom, as everywhere is there at once. 
Zion, on the other hand, has loved lunch and described it as "awesome." She said that she has a lot of time to eat and enjoys the free period after lunch every day. If she does not have enough time to do her work the night before, she knows that she always has the built-in free to get work done. Zion does not feel that lunch is too chaotic and feels that people file in and file out appropriately. 
Upperclassmen have similar complaints about the chaotic nature of lunch, but there is less of an issue with having enough time to eat. Tommy likes how he has lunch with everyone in his grade and also likes the 15-30 minutes before lunch to meet with teachers. Eliza notes that it is hard to find a table and hard to sit a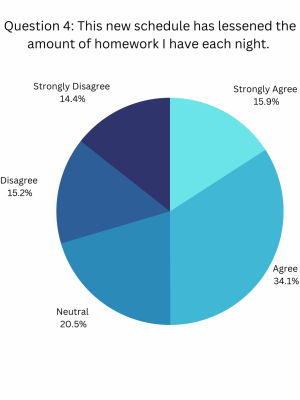 nywhere. She also noted that in the past when she would go to lunch with kids in her classes she was able to become better friends with people she wasn't before, but now most people sit with people they are already friends with. 
Eliza likes the added office hours and thinks that it is a great opportunity to meet with her teachers as it is hard to line up frees in other periods. However, she feels like office hours are too short and can sometimes feel a bit rushed if multiple students need to meet with the same teacher. Tommy likes the break or community blocks after first period. He feels like it is nice to have a break after his first class and is also a good opportunity to meet with teachers, finish work, and talk with friends. When Zion was asked her thoughts on the community blocks she replied "what's that?" Although these blocks have been implemented into the schedule they have not all been used yet in the way that they were projected to be used. As the year goes on though hopefully, these blocks will be very beneficial for students and teachers.
Leave a Comment