Hudson Scholars Holiday Party
With Christmas music playing, dreidels spinning, and gingerbread houses being decorated, the Hackley community hosted the Hudson Scholars and their families for the beloved annual holiday party. 
Director of Hudson Scholars, David Sykes, and the leadership team for the club worked hard to organize and prepare the event since it is a cherished tradition for both mentors and scholars alike. They also helped prepare the holiday gift for the scholars, which was customized blue and white plaid pajama pants. Along with this gift the scholars each received a hand-written note from the mentors.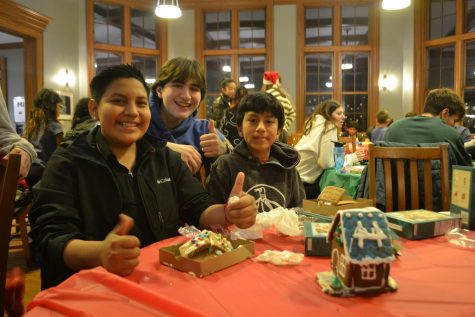 This fun night was the perfect way to start winter break off. The dining hall was transformed by the Hackley mentors and faculty into a warm, cozy environment packed with fun activities and delicious food. The gathering is traditionally a potluck, so many scholars brought their favorite dishes from home to share with the group. 
Activities at the event included gingerbread houses, cookie decorating, dreidel, paper snowflakes, New Year's resolution writing, and ornament decorating. The attendees were able to move around as they pleased to participate in any activities they wanted to. The night also included live music, led by Dr. Malkiel, a performing arts teacher, which turned into an impromptu karaoke, with many scholars, mentors, and even parents getting involved. 
The gathering of the Hackley community with the Hudson Scholars and their families is the perfect environment to ring in the holidays and New Year. 
Leave a Comment