Favorite Movies of the Year
Which movies were the best of 2022?
What Were The Best Movies of 2022?
#1 Top Gun: Maverick
Despite being released 36 years after the original, "Top Gun: Maverick" was one of the most popular and highly-rated movies of 2022. Within months of its release, the movie earned $662.5 million in the US box office. It is currently the twelfth highest grossing movie of all time. In a survey sent to the upper school, 43% of students voted Top Gun as their favorite movie of 2022. The movie picks up 30 years after the original movie with Pete "Maverick" Mitchell disobeying orders and he is left to teach a group of graduate students, the best of their class, for a special mission. During this mission, Maverick is forced to address aspects of his past that he believed wouldn't resurface. The movie stars Tom Cruise, Miles Teller, Val Kilner, Glen Powell, and Jennifer Connely. The movie is highly rated for its captivating storyline, breathtaking graphics, and passionate acting.
Junior, NJ Roc-Sennett, enjoyed how well the movie picked up off of the original. "I felt like the story had the potential to go somewhere else and "Top Gun: Maverick" was a really great sequel," she said.
#2 Black Panther: Wakanda Forever
"Black Panther: Wakanda Forever" begins with Wakandans fighting to protect their nation after King T'Challa was resurrected. As Wakadans begin a new era of their nation, they band together with Nakia and Everett Ross in an attempt to take a new direction for their nation. The movie stars many actors and actresses from the original "Black Panther," including Michael B. Jordan, Letitia White, Angela Bassett, and Lupita Nyong'o. Instead of replacing Chadwick Boseman and finding a new actor to play T'Challa, the saga continues by killing off T'Challa and honoring his death. It was ranked as the sixth highest-grossing movie of 2022, making 858.1 million dollars in US box office revenue. It was rated the second most popular movie by 22.1% of Hackley students who responded to the Dial's survey.
Sophomore Zora Blu Teacher said: "I loved the first one and am a fan of Marvel so I was happy for a sequel."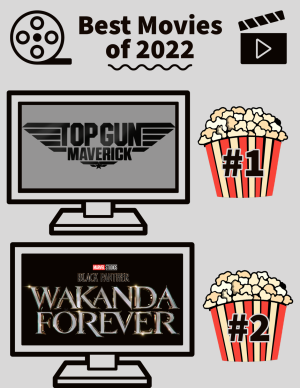 #3 Glass Onion: A Knives Out Mystery
An exciting weekend getaway to an island in Greece, owned by tech billionaire Miles Bron, is ruined when someone turns up dead. Detective Benoit Blanc is assigned to the case and the movie follows the investigation of the death. The movie grossed 15 million dollars during 2022 at US box offices and became one of the top-rated movies of the year. According to the Dial's survey, it was ranked the third-best movie of 2022 by upper school students.
Senior Esther Choi chose "Glass Onion" as her favorite movie of 2022.
"I was a little doubtful when I heard there was a sequel since "Knives Out" is my favorite mystery movie ever. But, 'Knives Out: Glass Onion' did not disappoint. There was a perfect mix of satire, suspense, and aesthetics. As a hardcore mystery fan, I loved this mystery that also told a compelling story of revenge," Esther said.
#4 Everything Everywhere All At Once
This movie follows an unlikely hero who is tasked with the challenge of fighting the unnatural and its dangers when an international puncture demonstrates the truths of reality. The fate of the world is determined by the Chinese immigrant, Yeoh, who recently gained supernatural powers. The movie was greatly supported by the Asian community, as the movie has lots of representation. Within months of its release, "Everything Everywhere All At Once" generated 107.5 million dollars in US box offices alone. The actress who plays the main character, Michelle Yeoh, won The Golden Globe Award for "Best Actress in a Motion Picture – Comedy or Musical" for her acting in this movie.
Sophomore Angela Croce rated "Everything Everywhere All At Once" as her favorite movie of 2022 because she believed it to be "a cinematic masterpiece."
#5 The Batman
"The Batman" follows Bruce Wayne traveling into Gotham City's underworld after a serial murderer leaves mysterious and threatening notes. As he gathers more evidence and comes close to catching the killer, he must establish new relationships and serve justice after the corruption that took place. The movie gained attraction almost immediately after release, grossing 770.9 million dollars in US box offices which put it as the seventh highest-grossing movie of 2022. Upper school students voted for "The Batman" as the fifth-best movie of 2022.
Sophomore Lilo Haidara commented, "'Batman' was an action-packed, incredible movie and the actress who played Catwoman portrayed the character very well."
Leave a Comment