Pottery Club
Started by juniors Cydnee Copeland and Sofia DiSpirito, the Upper School Pottery Club is one of the newer and more popular clubs that was started in the 2022-2023 academic year. Meeting twice a cycle on Days 1 and 7, the club strives to expose people to pottery and working creatively with ceramics.
Club founder and leader Cydnee Copeland said the club was filling a gap in the curriculum.,
"A lot of the pottery classes that the members wanted to take were canceled because there weren't enough people interested in the course to have a full roster," she said.
Instead, Cydnee and Sofia took independent studies in pottery and realized how engaging and fun creating pottery during the school day can be. The club was a way to be able to keep doing an activity they had grown to love.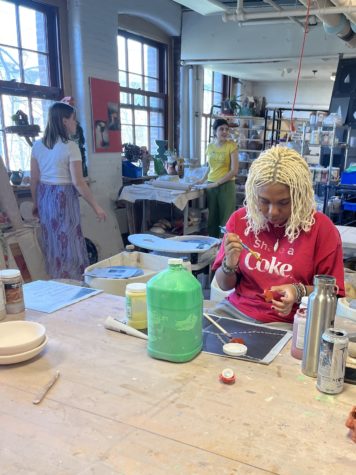 The club has had a great turnout and has over 15 members per meeting. In order to complete a piece it tends to take three to four meetings.
"I really enjoy the club, and I feel like it offers a lot of creativity for the members, and I think it is a really great experience to make something and use it," said sophomore Abigail Beyrich.
Members can make hand-molded ceramics and mugs. Students are also free to craft objects thrown on the wheel. The club promotes creativity and freedom; the club members mainly run the show whilst the advisor, Upper School Art Teacher Sarah Coble lightly supervises. According to the club leaders, the process can be described as: "make, fire, glaze, fire." Although this may seem confusing to some, the leaders are essentially trying to establish the various skills members can work on throughout the entire process.
Leave a Comment