"No more paper napkins in the compost bin!" said Talia Tirschwell, one of the leaders of Hackley Earth Action League. 
As clubs are starting up this year HEAL, a club focused on promoting sustainability and awareness around the environment, is exploring new ways to educate the community on what goes in each bin in the lunchroom as they've encountered many problems with people disregarding what each bin is used for. Recently there have been multiple changes to make the composting, recycling, and trash process more efficient.
For example, brown paper napkins no longer go in the compost bins in order to make the resulting compost cleaner and more useful. 
"Things that aren't food cannot be composted as we have quite a small scale compost system, so things that aren't food cannot be processed. If trash is put into the compost, the entire compost is contaminated and it cannot be composted." Francesca Jones said, another leader of HEAL.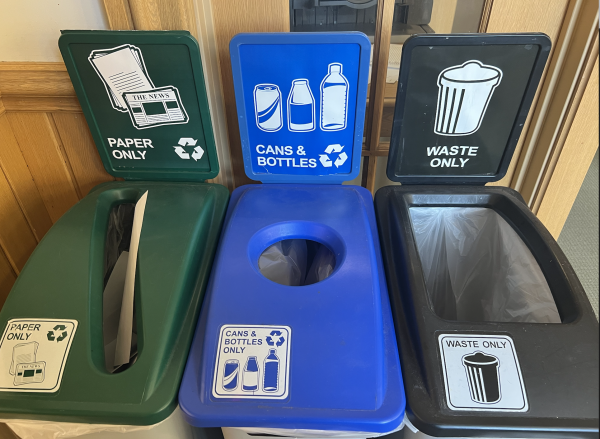 Additionally, members of HEAL want to stress the importance of disposing recyclable items in the recycling bin rather than throwing them out. "Recycling is better because items are able to be repurposed instead of going to the landfill," said Francesca. 
Empty cans and plastic bottles should be put in the recycling bin in the cafeteria. However, recycling bins in the classrooms are used strictly for paper. Additionally, trash is anything that cannot be recycled or composted. 
"In the future we are working to get a TerraCycle bin which is a company that reuses waste that normally goes in the trash. We would ship the waste back to the company and they would repurpose it which could be really cool," said Francesca. 
Additionally, HEAL hopes to hold Flik and school administration accountable for composting and classroom recycling. "Recently we've learned that things placed in  recycling bins throughout the classrooms haven't actually been recycled which is a shock for us and we hope to correct that," said Francesca. 
Finally, HEAL hopes to continue raising awareness about environmental causes. "We plan to do this through bake sales to raise money for environmental organizations and eventually relay climate related news to our community," Francesca  said. "Drawing attention to Earth Week through fun activities and engaging programming throughout that week is also a big priority for us," Francesca said.