Imagine yourself walking along hallways surrounded by long, wide panels of glass overlooking the Hackley campus. You ascend upstairs to computer workstations while carefully handling an instrument or a canvas. The clicks and clacks of keyboards and musical notes resonate throughout the building as you weave through its intricate design. This is Hackley's vision for the developing Center for Creative Arts and Technology, which is expected to open in the near future.
According to Peter Gisolfi Associates, plans to update the Hackley Campus began as far back as 25 years ago when Hackley first developed their "master plan". This not only led to the creation of Akin Common, Saperstein, and the Science Building, but also set the stage for a new establishment: in June 2022, the PAC was demolished in order to make way for the new Center for Creative Arts and Technology. Its debut is only coming closer as the construction is planned to finish in 2024.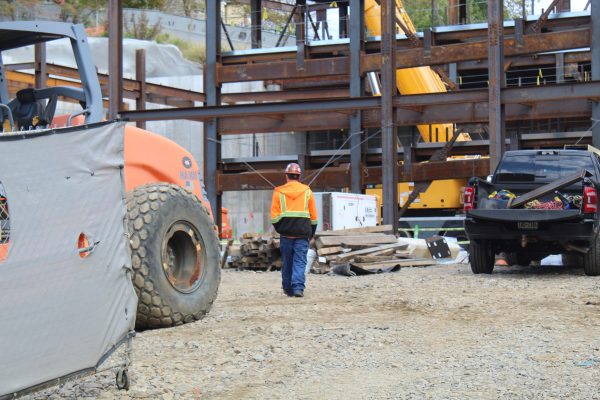 The center will house three different departments – Computer Science, Performing Arts, and Visual Arts – each with their own specifically designed rooms. An innovative approach to distribution of rooms between departments was to divide these different classrooms into one or more spaces with removable walls, facilitating communication between different classes and departments. The space will not only implement more complex, contemporary designs but also introduce larger facilities with new equipment for students and teachers.
According to the Director of Operations and Campus Planning, Bobby Aldrich, the old facilities "are not befitting of the program that we have. Hackley, over the last 20 years, has invested significantly in improving spaces for different programs on campus." The Performing Arts and Technology building "will be a culmination of many years of investment and making sure that all of the programs have the spaces that they deserve."
In response, all three departments expressed their excitement for the future of the new center and the impact it will have on each of their departments. Performing Arts Department Director Bettie-Ann Candelora stated that "when the school makes a commitment to the Performing Arts […] it creates a statement for the entire community that the arts are important." The department will have more space to plan and perform, " but more than anything, it really is a message to the entire community that we are committed to the arts and we care about the arts," said Ms. Candelora.
Computer Science Department Chair Melissa Tranchida also sees value in the center; "The building will be a wonderful way to organically foster connections. The Center for Creative Arts and Technology will make it even easier to think of ways to collaborate just by being in the same space. We have already had some collaborative work between the departments (AP Art Show App) and it will be wonderful to continue to be inspired in the space," she said.
Visual Arts Department Chair, Greg Cice, also agrees that there are many benefits to be gained from the new Center for Creative Arts and Technology. He believes that it will exhibit "a sense of transparency, transparency in terms of spaces […] that physically allows us to see beyond our space into what else was happening creatively in the building."
Ultimately, this will "create opportunities for collaboration" between all departments from the arts to technology.
The Center for Creative Arts and Technology — an impressive glass-lined space, humming with artists, thinkers, and their works — will become a beacon for creativity.
When arts and tech combine, what outcomes can we expect from Hackley's students? Diversity among these mediums will not only impact students and faculty but their respective communities, bridging ways of thinking and strengthening understanding of our fellow creatives.