The Bridge to the Future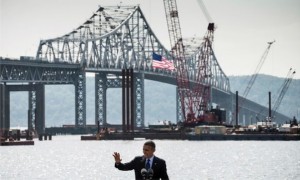 From the Hudson riverfront, deep into 287, the streets of Tarrytown and surrounding vicinities found themselves cluttered with drivers desperate to get back home last Wednesday. Though this magnitude of traffic is not common in this town, drivers can now expect arduous hours behind the wheel during their daily commutes. The source of this prolonged journey across the three mile Tappan Zee can be attributed to the construction that's currently underway and will lead to ramp and lane closings; this is more of a reality for the future than the present though. The reason for Wednesday's congestion did very much involve the Tappan Zee, but also every deteriorating bridge in the states. Last Wednesday was about rebuilding America.
While listening to their tunes drivers could appreciate, a mile above the miles of stagnant cars, a black helicopter descended into Tarrytown. This was Marine One: President Barack Obama's personal chopper. Upon landing, the President made his way to the foreground of the Tappan Zee bridge and discussed the future of American infrastructure. Despite the mind numbing frustration that may be caused by waiting hours in long lines, in the long run more secure infrastructure is worth it was his message.
Last year, President Obama provided $1.6 billion for the construction of the new Tappan Zee bridge. In the past, the project which will cost an estimated total of $3.9 billion dollars had met many delays, because approval of the project required a variety of infrastructure and environmental studies. While speaking on Wednesday, Obama said, "At times, you can see the river through the cracks in the pavement. I'm not an engineer but I figure that's not good." It's observations like these that led his administration to expedite bridge approval and provide federal funding at a low 3.89 interest rate. Although tolls will have to be increased, Obama and Governor Andrew Cuomo assured these are necessary procedures that will avoid any future, more costly disasters.
Besides providing commuters with safer voyages, Obama also assures that projects such as the Tappan Zee reconstruction will be profitable and beneficial for the economy. "Businesses are going to come where there's good infrastructure," he said. With the creation of jobs during construction, as well as the attractiveness an improved bridge will have for businesses and homeowners, Obama expects that returns will be enough to make up for the increased tolls.
Not only did Obama consider the Tappan Zee in his bridge, but he also unveiled a general, national reconstruction plan his administration has in the works. Totalling $302 billion, this project would give over 112,000 local and state infrastructure projects around the country federal funding to meet financial needs. These projects would also create 700,000 new jobs over the next four years.
Despite the apparent concreteness of his plan, Obama has meet a fair amount of backlash, especially from Republicans who believe funding for such projects should be left up to states and that federal money should be put to their use. Obama addressed this criticism stating that many states, especially those in the South do not have sufficient money to fund this pricey projects. Additionally, he pitted the US against China, observing that the we've fallen behind the country which has federally funded various high-tech infrastructural projects. In fact, "China is spending four times as much," the President said.
He urged citizens to pressure their Republican representatives and used Tarrytown's Tappan Zee as an example of how federal funding can lead to a successful and publicly endorsed project. A main concern for citizens of Westchester and Rockland counties was the need of a cross county transit system, which will now be provided on the new bridge. Despite asking for Republican support, the President also says he will take necessary measures to expedite future projects without Congressional approval.
"Rebuilding America shouldn't be a partisan issue," he ended; citing the success of other projects built by Republican presidents like Dwight D. Eisenhower's Interstate Highway System. Westchester County Executive Rob Astorino, who is expected to challenged Democratic Governor Andrew Cuomo in this year's gubernatorial elections turned Obama's statement on it's head, recalling Obama's funding of his opponent's project and alluding to the President picking what projects to fund along political lines. "I wish he didn't have to be so partisan. He should have taken the high road," he stated following the speech.
Despite the political battle Obama's plan has sparked and the impromptuness of his visit (Tarrytown Mayor Drew Fixell was unaware of it until a week before), Obama's appearance was fairly well received by the public. Perhaps the most ecstatic people his visit left were the children who attend Tarrytown's public schools, as they were closed for the day.