Spring Sports Trips Bolster Excitement for Season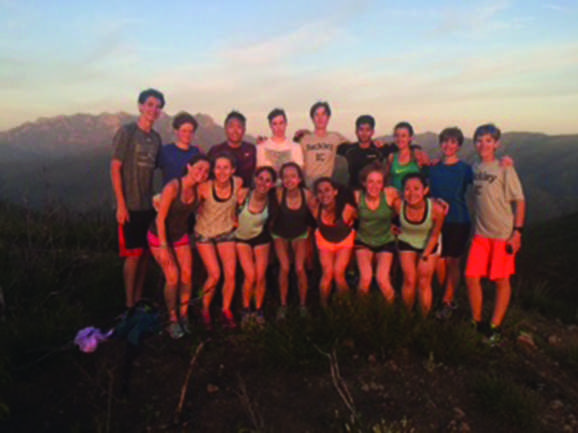 Spring Track
Over spring break the Track and Field team went to California for intense training and team bonding. On a typical day the team would get up around 7:30 a.m.; distance would go for a run at Crystal Cove State Park, while sprinters and throwers headed out for a track workout at Orange Coast College. Post-workout, the team had free time at Laguna or Huntington Beach until another track workout with the entire team later in the evening. One of the highlights of the trip was the Point Mugu State Park mountain run, a nine-and-a-half-mile run with beautiful views of the Pacific Coast and good endurance training!
Boys' Golf
Boys' Golf woke up at 6:30 every morning to get an early start on the course. Charlie Hite loved the beautiful course, fantastic meals, and being able to drive carts each day. After putting competitions that the coach set up for them each day, going back to the hotel and chilling by the pool was the most relaxing activity. "Overall the trip was a lot of fun…The course was beautiful, each meal was fantastic, driving carts everyday was great. The only boring part was when we only played one round a day and had nothing else for the remainder of our time."
Softball
Softball went to Disney World to sharpen up for the upcoming season during Spring Break. Every day, players would practice in the morning or afternoon depending on their games, would play at 9 a.m. or 4 p.m. For one game, the team plays under the lights. Right before the late game, they spent the entire day at the different Disney parks until game time. After the game, they went back to the hotel and either traveled to other Disney parks again or hung out in their rooms and played team bonding games.
Baseball
Baseball players were stationed in Port St. Lucie, Florida again this year. Sophomore Daniel Hernandez said, "My favorite part was probably just being around everybody. It was my second year on the trip so it was fun being back together with everyone and then getting to know the new freshmen. The most interesting part of the trip was that we decided to buy this gnome and I took videos of it with some music and each time the bass dropped I zoomed in with my phone which was very funny. Overall the trip was fun. Even though we didn't play our best baseball, it was fun to be with everybody again."
Girls' Lacrosse
Girls' Lacrosse kicked off their season in Clearwater, Florida. Everyday around 6:30 a.m, they woke up for breakfast and had two grueling practices a day with a scrimmage at night. The girls often went out to dinner, where they were able to bond and become closer with new teammates from other grades. After a day of lacrosse and fun under the Florida sun, lights out was 10:30 p.m. Freshman Maddie White especially cherished her experience of becoming a part of her new team. She said,"My favorite part of the lacrosse trip was the karaoke we did together as a team. That night was a really fun night."
Boys' Lacrosse
To junior and lacrosse player Shayan Ahmad, the motto of the lacrosse trip was: "No pain, no gain." Each day, the team would wake up at 7:00 every morning, and immediately would launch themselves into two practices a day: two hours in the morning, a 45-minute lunch break, and another two hours in the afternoon. They had some downtime until scrimmages at night, and would go back to the hotel around 9:00 p.m., where they would then eat and hang out. Freshman Ben Meyers reflected on his trip as a new member of the team. He said, "I loved the team bonding with the upperclassmen. They are a great bunch of guys."