The End of an Era: Legendary Headmaster Walter Johnson Leaves a Remarkable Legacy
Hang on for a minute...we're trying to find some more stories you might like.
In this final issue of the 2015-2016 school year, The Dial pays tribute to our leader, teacher and headmaster, Walter Johnson. The Dial reflected on his tenure and impact on Hackley and the student body. Recently, we have sought the opinions of members of the Faculty and Board of Trustees who have worked most closely with Mr. Johnson and who have borne witness to this extraordinary period in the School's history.
The Dial would also like to acknowledge the departures of longtime Hackley faculty members Andy Retzloff (31 years), Julie Lillis (30 years) and Kathie Szabo (22 years). We are so grateful for their dedication and loyalty to Hackley and will miss their intellect and inspiration enormously. Together, with Mr. Johnson, these devoted individuals have committed a total of 104 years of service to the School.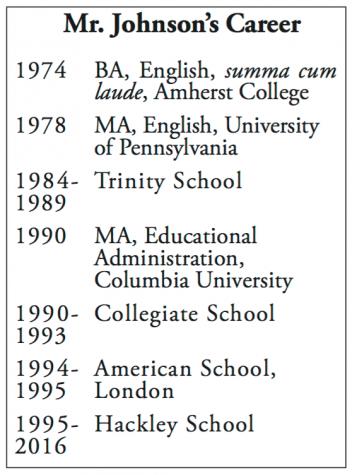 "Transformational and transformative," said one. "Unfailingly supportive," said another. "Publicly intellectual," said a third. It is impossible to quantify the profound and immense impact Headmaster Walter Johnson has left on Hackley during his 21-year history. Aside from his measurable accomplishments (such as purchasing the 172 acres from the Laurance S. Rockefeller Fund for Hackley's new athletic facilities in 1998, greatly expanding the financial aid budget and spearheading Hackley's centennial capital campaign in 1999), Mr. Johnson's contributions to Hackley go "beyond the tangible."
Throughout his years at Hackley, Mr. Johnson's invaluable vision for the School's future helped transform Hackley's campus and community. As President of the Board of Trustees John Canoni '86 said, "Walter Johnson not only improved Hackley tremendously; he did so while retaining our values and our culture, thus strengthening the Hackley community during a time of intense change." Mr. Johnson remained true to Hackley's core values while enhancing the School through many decades. "That smooth transformation is a tribute to Walter's clear and thoughtful vision for Hackley and his ability to create an environment in which people can work collaboratively and cooperatively," said English Department Chair Dr. Richard Robinson.
Although many community members know Mr. Johnson as a school administrator and leader, his fellow faculty attribute to him one of his greatest skills, that of teacher. "Walter has always remained grounded in teaching … thus keeping himself in touch with what education means today," said Dr. Robinson. "He dedicated his [academic] career to the moral development and well-being of his students," noted Assistant Headmaster Steven Bileca, with whom Mr. Johnson shares a genuine interest in philosophy. Upper School Director Andy King has worked closely with Mr. Johnson during his years at Hackley and feels a "level of personal and professional gratitude" to Mr. Johnson for his guidance and support throughout Mr. King's career — from entering Hackley as history teacher at age 22 to becoming Upper School Director at age 31. "He's changed my life," Mr. King said.
In addition to Mr. Johnson's physical contributions through Hackley's new buildings and open spaces, he has helped promote a sense of community throughout the Lower, Middle and Upper Schools. Throughout the Quad, Akin Common and Courtyard, Mr. Johnson's "visual aesthetics" have helped to foster interactions across all three divisions and to "draw us in as a community. He has lead the redesign of the campus in a way that has expanded Hackley's beauty while also remaining consistent to our identity," said Director of Communications Suzy Akin.
Mr. Johnson's many gifts to the School extend beyond not only the tangible and abstract, but also into the School's moral well-being. In a recent article in Hackley's Perspectives titled "Educating the Moral Heart," Mr. Johnson expressed his view of the role of headmaster as "one for whom power is an instrument of love." From his plethora of English electives to conversations with his advisory, to a multitude of board meetings, Mr. Johnson left a "human legacy and impact," as Mr. King said. "He had a very high moral character and moral compass that guided and set the path for the School," said Math Department Chair Diana Kaplan. Throughout the many difficult and complex decisions which Mr. Johnson has had to make as part of his demanding duties as headmaster, he always kept every aspect of the Hackley community in mind. "The moral exercise of power entails not simply good intentions, but consideration of persons as well as effects," Mr. Johnson wrote.
The remarkable legacy of Mr. Johnson will prevail long past his tenure as headmaster. "The leadership and vision he has exhibited from 2-3 years after his arrival, have continued to grow," said former President of the Board of Trustees Tom Caputo '65. Mr. Johnson's ability to take an interest in every aspect of Hackley's operations is unparalleled – from the academic rigor of Hackley's curriculum to the social, emotional and moral well-being of students, faculty and staff. "Every part of the student experience is shaped by him," said Ms. Kaplan.
"When I think about how hard Walter has worked, his work ethic and dedication to Hackley personify that phrase, 'unreserved effort,'" according to Director of Alumni Affairs and Development John Gannon, and he could not have been more on point. Mr. Johnson has left immeasurable contributions to the School's community, culture and character. As French teacher and former Modern Languages Department Chair Danny Lawrence said, "Walter has turned a good school into a great one. Hackley will look back on his headmastership as a golden period in the School's history."