Winter Athlete Q&A: Kristen Bringsjord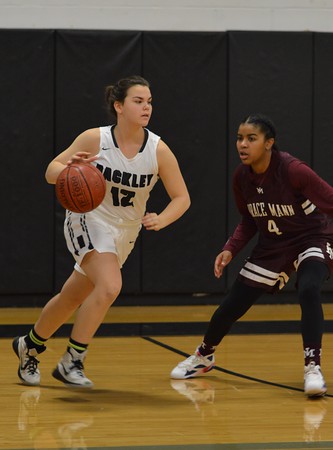 Editor's Note: This Q&A is part of an ongoing series of profiles featuring Hackley's athletes. Sophomore Jordan Wade sat with senior Kristen Bringsjord to discuss her distinguished achievements in basketball.
Q: What has been the most enjoyable part of the basketball season so far
A: "My favorite parts of the season are definitely the Dan DiVirgillo tourney, Sting, and the after practice dinners that we have at Eldo's. Because we have such a young team it's really nice to get everyone together and talking."
Q: As a captain, what are you doing to try and create a team that is close and works well together?
A: "As a captain, I'm trying to enforce positivity on the court and get everyone to pump each-other up, and also to get everyone really loud during warmups to have a high-energy game."
Q: What would you say is the most important thing that your team needs to work on?
A: "Probably energy. We all play our best during the games where everyone is pumped up from the start of warm-ups all through the game. Before games start our Coach is always telling us to have energy. My main goal for this team is, no matter what our record is, to work really really hard, make eachother better and play as a team."
Q: What do you think will be the hardest part of improving this season?
A: "The hardest part of improving is having to make up for the loss of our main scorers last year, like Sammy Mueller and Maryrita Curcio. But, our sophomores Jordan Wade and Ismene Germanakos have really stepped up so far."
Q: Do you have any pre-game rituals?
A: "My foul shot ritual is pretty weird, if you ask any of my teammates. I also have to wear the same sports bra to every game."
Q: Pump up song?
A: "Call On Me, the Ryan Riback remix."