Rising Spring Sports Stars
Underclassmen athletes dominate their respective teams with passion and drive during the season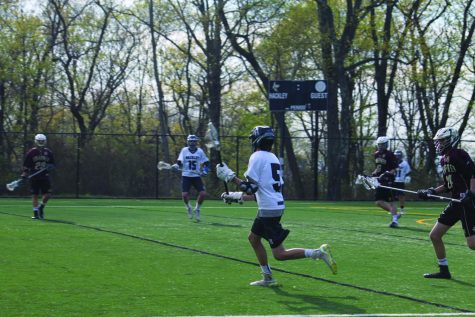 Henry Jones
Sophomore Henry Jones started playing lacrosse in 4th grade. He is still unsure of whether or not he will play in college and is going to let his next two seasons at Hackley decide that for him. "I honestly started playing lacrosse because all the other sports I tried were boring to me. I switched from baseball to lacrosse and started to fall in love with it," described Henry. "My biggest inspiration at Hackley is Kevin Kim. He started playing lacrosse as a freshman and really worked his way up to the top. Now he's a captain, " he said. Henry's teammates and coach, Christopher Arnold, describe him as extremely "hard-working" and "coachable." "Henry works really hard and that effort usually pays off for him," said senior Shayan Ahmad.  "Henry made a switch from attack to long-stick midfield and it's been a terrific switch for him. He uses his size really well while he's playing defense. He is really coachable and very aggressive on the field," said Mr Arnold.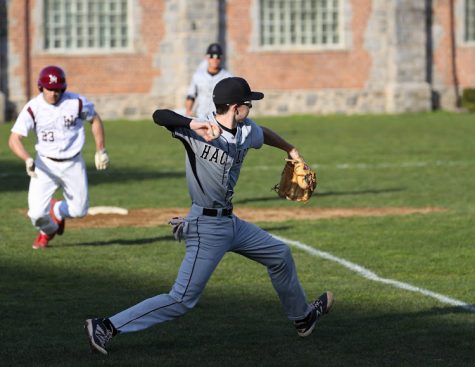 Peter Clyne
Sophomore Peter Clyne has been playing baseball since he could walk. He was on the varsity team as a freshman and has been a key player on the Hackley Varsity Baseball Team this year. After Peter's four years on varsity come to an end, he hopes to continue baseball in college. Peter is inspired by former Yankees shortstop, Derek Jeter: "I've always looked up to Derek Jeter because he holds himself to a mature standard and is a very good player," said Peter."He's obviously retired now, but he had been playing for such a long time and had a really great career in baseball." Peter's love for baseball became apparent fairly recently. "I used to hate baseball. I would cry when my mom would force me to go to games. I remember this one time in tee ball, my coach told me to play shortstop and I had no idea what that was. I was so embarrassed. As time progressed, I began to like baseball more and more. Now I'm really not sure what I would do without it," he said. Peter is not only a talented baseball player, but he is also a great teammate. Junior Daniel Hernandez says, "Peter is really hardworking. The coaches give him a lot of tips for hitting and fielding and he always works really hard to go through with them and apply them at critical times."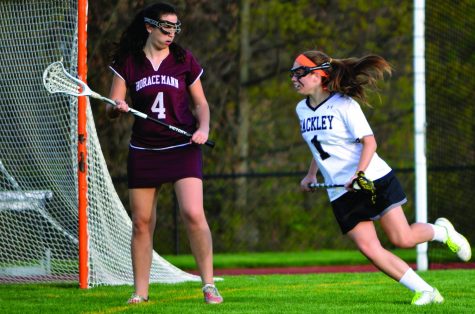 Leah Holmes
Freshman Leah Holmes started playing lacrosse in kindergarten and hopes to continue playing at a collegiate level. "My mom made me start playing lacrosse when we moved to Larchmont. I'm very competitive and I love working as hard as I can. I also really enjoy the teamwork aspect of it, making new friends and forming relationships with people who love lacrosse like I do," describes Leah. Leah's teammates speak very highly of her. "Leah is extremely skilled. Every move she does and every cut she makes is deliberate. Whenever I watch her play she does something amazing," said junior Ijeoma Nwokerie. Leah watches a lot of college lacrosse in her free time, finding inspiration in Megan Whittle. "I've always been very inspired by Megan Whittle because she's such an amazing player and is really fun to watch."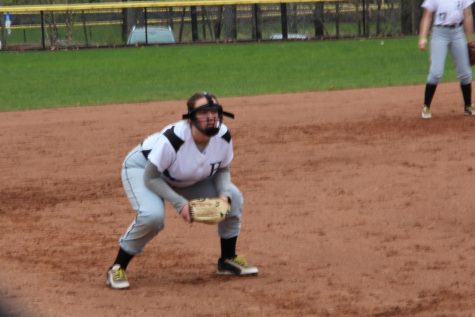 Lauren Ahern
Freshman, Lauren Ahern has been playing softball since kindergarten and is considering playing softball in college. "I started playing because of my sister and my dad. My sister is four years older than me and she always played softball and really loved it. My dad grew up playing baseball and he has coached my sister and I throughout our lives. It really pushed me to work harder and stick with it,"explains Lauren. "Lauren is very dependable. She always handles whatever is coming at her and we can always count on her to make the play when we really need it," said senior Amanda Patterson. "As a player, Lauren is a force. She's all around a really good player, she has crazy hits, crazy throws to third base, and can catch literally everything," describes junior Elon Middleton.Hackley's Softball team hasn't had a great record in previous years but Lauren is hoping that this year that will change. "I want people to think of Hackley as having a good softball team," said Lauren.
Jared Tilliss
Freshman Jared Tilliss currently plays 3 singles on the Hackley Varsity Tennis Team. He has been playing since he was 5 years old and continues to enjoy the sport. "I initially started playing tennis because my mom told me to get out of the house and do something because I was just sitting home doing nothing that summer. But now I play because I love tennis and I want to do what I can to win matches for my team." said Jared. Jared's teammates describe him as "passionate" and "hardworking". Senior captain, Teddy van Eck speaks very highly of Jared, "He is very determined because he never gives up and is always looking for a way to win. Even when he is playing his match he's still rooting on other kids in the middle of their matches. When he is playing singles he's not only focussed on himself, he's focussed on the team too." Jared hopes that in his next three years on varsity he will be a captain, win a bunch of matches for the team, and move up from 3rd singles to 1st singles.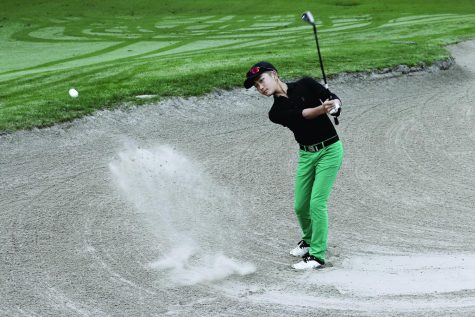 Jimin Jung
Freshman Jimin Jung started playing golf when he was 3 years old. He hopes to continue with his golf at a collegiate level and would heavily consider playing professionally.
"I went to Japan when I was around 3 years old and I went to the Professional Golfers' Association tour. Ever since that day I knew it was something I loved and wanted to do." Jimin said. Jimin started playing for the Hackley Varsity Golf  Team as an eighth grader and was number two for most of that season. Jimin attended IMG academy for two weeks over spring break to improve his golf game and as of two matches ago, he plays number one for the Hackley Varsity Golf Team.  He hopes for the team to win the Ivy League title again and ultimately win NYSAIS for the first time in Hackley Golf history. Jimin's teammates speak highly of him. "Jimin is a very good player and is extremely consistent. He always shoots a couple strokes below or above par every round," says senior Tucker van Eck.