Students express opinion about class rank
Popular opinion at Hackley School decides that class rank is too personal to be shared, and does not support Hackley's ideal of character above intellect.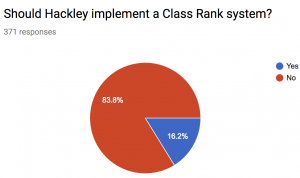 After sending out a poll to the entire Hackley student body on Thursday September 28th, the Dial staff has received more than 370 responses about the issue of class rank. Class rank is defined as a system in which students are listed based on their grades, and is implemented at many high schools for the senior class.
At Hackley, there is a valedictorian and salutatorian of each graduating class, but after that, students are not ranked. The results of the poll sent out have clearly detailed that most people attending Hackley agree with the system in place. The general consensus stated that grades are personal and should not be shared or compared.
Of the 16.2% of responses saying that Hackley should have some sort of class rank system, less than half said that it should be posted publicly. Some anonymous comments outlined the belief that class ranking would encourage students to try harder in school, while one person said that only juniors and seniors should be able to find out their own rank so they could be shared with colleges.
The Hackley administration's decision not to implement class rank is almost completely in line with the opinions of the student body, as shown through the excerpts from the survey.