Teachers administer mastery tests to prepare students for challenging math classes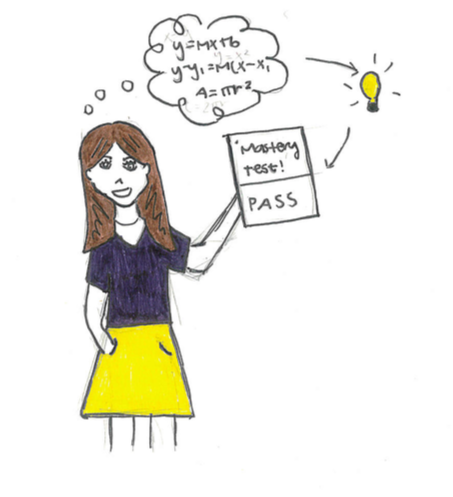 To make the transition from summer into the school year, math students need to have a solid recap of previous material and a basic understanding of past concepts.
After a long summer, students usually have a difficult time easing their way back into the material, often forgetting what they learned the year before. Since math is cumulative, it requires a reminder of the learning from the previous year. This provides a challenge for the students in cumulative subjects that are forced to balance remembering what was taught and relearning concepts from past years that they didn't understand.
The Math department attempts to ease that difficult balance for its students between remembering previous material but also making sure they have a basic understanding by introducing the Pre-Calculus and AP Calculus mastery tests. These tests are meant to determine whether students have retained a basic understanding of previous material and give them a sense of where they're at.
"I like them because without the packet she would have had to teach us the first unit and it would take time out of the year," said Senior and AP Calculus student Lauren Shapiro.
There is no specific grade needed to pass the test, but it is rather a general assessment to see if the student knows the material well enough to succeed in the course. After the test, each student receives paragraph style feedback giving suggestions on where they need to improve or where they are strong. If a student achieves what their teacher defines as "mastery," they are done with the test.
If not, a student will have to work with the teacher and engage in more practice before taking the test a second time or third time. If after the third time taking the test, the student still struggles, there will be a conversation with the student's parent, advisor, and college counselor to express concerns and the student themselves will make the decision on whether to stay in the course. Unlike the Hackley rumor mill suggests, no one will be forced to drop the class.
"Math is cumulative," said Ms. Kaplan, director of the Math department, "So the goal is to make sure students are adequately prepared [for the class]." These tests stress the importance of helping students stay at their level and allow them to be set up for success in a challenging course. Since there is no teaching of chapter one, there is a very limited review of material. These tests are supposed to remedy this and to ensure that students have the necessary skills.
While these tests positively benefit students with an understanding of their level and adequate preparation for the course, these tests do put slight pressure on students to understand the material at a much faster pace than some learning styles allow for. People take this class to be challenged and because they want to continue with math and these mastery tests might discourage students into taking the course who are nervous about passing the test due to difficulty with past material. While these tests are posed as a casual requirement, in reality, they can possibly stress out students about being what is considered ready for the course.
While some students may find this stressful, they need to understand that in order for a student to learn effectively, they have to have some measure of understanding and basic foundation. If a student is struggling in a class to the point of near failure, this could destroy a student's confidence and make it harder to reach out for helpful resources. While a challenge is always welcomed, if a student is not doing well assignment after assignment it is very clear they chose the wrong path and are not gaining from the situation. These tests remedy this and give students the ability to know how the course might go for them.
"It gave me the ability to know if I'm ready for the class and it's a good recap," said AP Calculus student and Senior Peter Clyne.
These mastery tests assure that students are at the right level and up to the task of taking the course. This also helps students for the future because, as Olivia Curran explained, "Even [when you] pass, Ms Kaplan [tells you] stuff to work on so you can do better later on in the year."
These tests demonstrate the importance of how students need a slight challenge but overall should stay at a level they can handle. The goal for Hackley is to set students up for success and these mastery tests do just that, giving students the opportunity to learn and grow in the Pre Calculus and AP Calculus courses.