Coach Brown shares wisdom and love for basketball with JV Girl's team, leading them to victory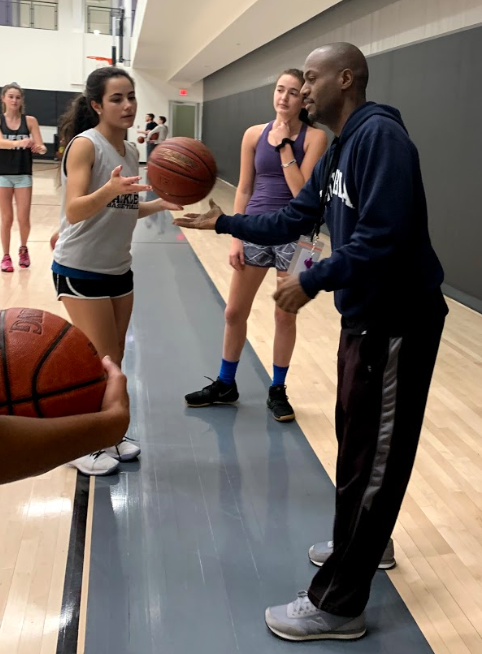 "How different the world would look without the game," second-year JV girls basketball coach Sam Brown said, "That court with all the lines, rules, and regulations, that rim, that backboard, sneakers squeaking against the wood floor, the sound of a shot as the ball goes through the net, the feel of leather against your palms and fingertips; it would be boring. Basketball is my life and it has impacted it greatly."
The Hilltop welcomed Sam Brown last year, bringing new coaching strategies to the Hackley girls basketball program. In the short time that Brown has been on the Hilltop, the JV girls basketball team has had two outstanding seasons, winning the Ivy-League two years in a row.
Brown first became interested in basketball as a fan. Julius "Dr. J" Erving was the player he gravitated towards because of his high flying dunking ability and overall performance. Brown then started going to the parks in his Bedford Stuyvesant Brooklyn neighborhood to try to emulate Dr. J.
"In my neighborhood of Bedford Stuy Brooklyn in the early '80s and 90s let's just say it wasn't the greatest area to raise a child in. But I survived due to basketball and various other sports, which kept me out of a slew of troubles that others my age had succumbed to," Brown said.
Basketball taught Brown humility as he transformed from a top player in his neighborhood to being a benchwarmer in high school. However, he relished his role on the bench as a practice player and as a pseudo assistant coach to his high school coach.
"I loved my teammates and my coaches despite not getting my needs of playing time met. I refocused my energies into helping others. I would work as hard as I could every practice and in games; I'd cheer on my teammates from the bench as loud as I could to motivate them," Brown said.
Brown has gained life-long friendships and relationships from basketball. He helped five of his high school teammates become division one basketball players through working with them throughout his high school career. Two played overseas and one went on to play in the NBA. To this day his high school teammates credit him with their success in basketball.
"I guess that might of been my first coaching job? Had I been the star ballplayer that I dreamed about being rather than a benchwarmer I might not have ever coached all the great kids that I have over these years," Brown said.
This is now Brown's 20th year of coaching. Coaching the Hackley Girls team was Brown's first time coaching girls basketball since 2003. His decision to coach girls at Hackley stemmed from watching his daughter's 8th-grade basketball games. He sat in the bleachers never saying a word, only cheering the team on. Yet he would watch the girls give their all only to come up short at times. When he saw the job on the Hackley website he thought it might be his opportunity to get the JV girls coaching job.

The JV team has won their league for the past two seasons. The team's success comes from playing unselfishly and hard. They pressure the ball for 32 minutes to create turnovers which they turn into offense. Their motto is "defense is our offense".
Brown gives his players a simple game plan that they can execute and understand with freedom inside of that structure to showcase their talents.
"It's been great having Coach Brown as my coach for the past two seasons. He has motivated me to be the best at basketball I could possibly be," Sophomore JV player Jessie Bard said.
"Thank God for Dr. James Naismith and this great game he invented. I couldn't even imagine where I'd be right now without it," Brown said.
Leave a Comment