Club Fair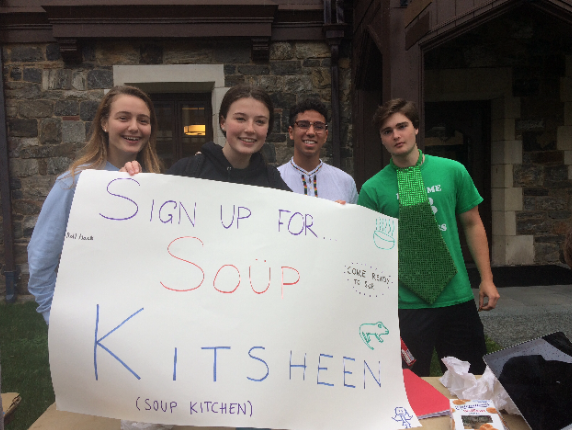 The annual Club Fair was in full swing on Tuesday, October 17th, and the quad was buzzing with students who enjoyed the weather and learned about the many different opportunities on campus. Club leaders brought various decorations and food to entice new students to join their organizations. A total of forty-four different student-run clubs set up tables on the grass. 
One of those leaders is senior Sean Ford, a co-leaders of the community service organization Soup Kitchen, where a group of Hackley students volunteer at a local shelter.
 "I thought the Club Fair was productive. It was very exciting to see a bunch of new faces getting involved. I can't wait to see all of the new faces in my club at our future meetings," Sean said.
One brand new club, the Hackley Spikeball® Club organized by senior Jack Bosco, ran live games of Spikeball® during the fair. Many students have played Spikeball® during their free time on campus, so Jack decided to organize matches into a structured tournament. The club was one of the most popular sign-ups for students, with a large crowd surrounding Jack's table at all times.
The Hackley Outdoors Club set up a tent on the quad, in order to advertise their hopeful overnight camping trip. The club attracted a lot of attention from underclassmen, with over one hundred students enrolling.
A few of Hackley's administrators were present as well. Mr. Wirtz was in attendance snapping photos and talking to the students, while Mr. Arnold, who is in charge of student-run organizations, made sure everything was running smoothly. He was constantly checking in on club leaders and organized the clean-up effort.
Following the successful event, clubs have been off to a strong start in the fall. Unity had their first after school meeting towards the end of September, and Model UN is preparing for their opening conference at Greenwich High School on October 19th.