From Hackley to your TV screen: The journey of alumni from high school to sports broadcasting
Billions of people around the world follow sports every day. Both the fans and the industry would be nowhere without the work of sports broadcasters. It is a business that is hard to get into, but one that, with the right amount of effort and time, is achievable. Many Hackley alumni have been successful in this field, including Ian Rapoport '98 and Ryan Ruocco '04. Rapoport and Ruocco have contributed substantially to the sports world, and Hackley has helped both of them get to where they are today.
For Ian Rapoport, NFL Network insider, journalism was his introduction into the business that ultimately led him to his current job as a sports broadcaster. Ian began his career as a journalist on the Dial at Hackley. That said, his time on the Dial was cut short after he struggled to find the time to write articles. "It was a collective group decision that I not be on the Dial staff," Rapoport said.
While Rapaport only wrote one article during his brief time on the Dial, he reinvolved himself with the daily school newspaper, the Spectator, at Columbia University where his love for journalism was reborn.
"You see your name in the paper, your friends are reading the article. It's all really cool," Rapoport said. Ian went into college thinking he was going to become a lawyer, but after freshman year he realized that journalism was the path he wanted to pursue.
After college, Rapoport applied for jobs at 311 newspapers, and only received two interviews. One of those interviews was with the Journal News, which gave him his first job working part-time. "That was the beginning of eight years in newspapers before I even thought of the possibility of being on TV," Rapoport said.
Those eight years consisted of jobs on the Jackson Clarion-Ledger, Birmingham News, and the Boston Herald. Then, in 2012, he was offered a position to be a Dallas based regional reporter for NFL Network. Rapoport was later promoted as an insider for the NFL Network, which has continued to be his role for almost seven years.
Rapoport's journey through the broadcasting business demonstrates the different aspects of the industry and the ups and downs that come with wanting to be a sports broadcaster. Rapoport's two main pieces of advice to aspiring broadcasters are to write as much as possible, and to make sure that you love broadcasting sports more than the sport itself. Rapaport was always a sports fan growing up, but he has been successful due to his love for broadcasting more than the actual sport.
Another extremely successful broadcaster from Hackley, Ryan Ruocco, had a very different career trajectory. Ruocco's love for sports broadcasting emerged as a fan at a young age watching games with his father.
"I would always notice the announcers as my dad and I would watch games together and always point out different things about certain announcers that we liked," Ruocco said.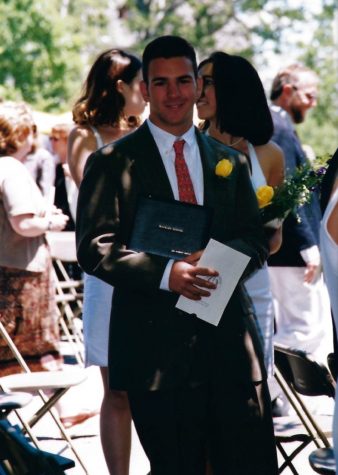 Ruocco's love for sports broadcasting was part of the reason he ended up at Hackley. He wanted to attend the same school as famous sports broadcasters Chris Berman and Keith Olbermann. Ruocco credits the English and history departments with providing him with writing skills that have helped him a lot during his time as a broadcaster. "The way I learned how to write thanks to our English and history department, was just incredible and it has served me so much in my broadcasting career," Ruocco said.
Ruocco always had a love for play-by-play announcers as he liked the way they shaped a fan's experience. During Ruocco's time calling play-by-play for Fordham University, his passion for sports broadcasting grew to the point where he knew that it was something that interested him as a potential career. "I always thought play-by-play could be a good avenue for me, and then once I started doing it at Fordham, I was like oh wow this is it, this is what I want to do," Ruocco said.
Ruocco has built a name for himself in the play-by-play industry. He now calls for the New York Yankees, Brooklyn Nets, WNBA Finals, as well as boxing on DAZN. Most recently, Ruocco has founded a podcast called R2C2 with future MLB hall of famer CC Sabathia: "I love doing the podcast. It gives me an opportunity to have some interesting long formed conversations with some really interesting people," Ruocco said.
Ruocco credits his preparation skills for allowing him to broadcast a different sport each night. His advice for aspiring broadcasters is to work harder than you could ever imagine. Ruocco said, "There is so much competition for these gigs as so many people want to be broadcasters. If you think that having a little bit of talent or having one connection is gonna get you a gig, it's not. You have to pour your heart and soul into it and you have to love it." While broadcasting is such a competitive field, it is achievable with hard work and determination.
Ruocco and Rapoport's stories show how in order to be successful as a sports broadcaster, one has to work harder than the competition and be passionate about broadcasting so that it shows in one's work. Ruocco and Rapoport have had different paths that have led them to be successful in the broadcasting business, but for both of them, Hackley provided a strong writing foundation that has helped them throughout their professional careers. Sports broadcasting is a profession that is desired by many but is achieved only by the ones who put their heart and soul into it. The next Rapaport or Ruocco could even be a student at  Hackley today.
View Comments(1)