Editorial: A vision of the new normal on campus this fall
Editorial: A vision of the new normal on campus this fall
Political leaders, public health experts, and pundits discuss flattening the curve, social distancing, and contact tracing in all media forms. We are all well aware. Since we left school for early spring break after Tuesday, March 10th, we are now on the eleventh week of quarantine (as of May 19th). Headmaster Mr. Wirtz has taken an optimistic, yet favorably conservative approach in making decisions about how school will reopen and what it entails. As a community brought together by education, it is hard not to question when we will be coming back together.
On May 4th, Andrew Cuomo, the Governor of New York, released guidelines detailing the seven measures needed to be met before any of the ten regions in the state could begin the four phases of reopening. The last phase of the plan includes the reopening of schools and entertainment venues. Currently, Westchester County is meeting six out of the seven requirements to reopen.
As an independent school, Hackley has the liberty to remain closed should all other schools open. As Westchester does not meet one of the largely important factors to reopening —a consistent decline in pandemic related hospital deaths— it is clear that Hackley's decision to stay closed is mindful both in terms of the state requirements, and what is best for the community.
Based on the CDC advisement rubric and the New York State checklist, Mr. Wirtz plans to have a phased reopening of campus. The first phase of the opening entails having some administrators, staff, and key employees back on campus. The second phase of reopening does not include teachers returning back to campus, but rather more grounds and sanitation workers entering campus.
"Right now, it is the skeleton crew of our buildings and grounds staff that works, and it's just enough to keep buildings running….Offices are closed, campus is closed to anybody but deliveries and residents," Mr. Wirtz said.
As the next school year approaches, Mr. Wirtz envisions three scenarios for how learning can continue. These scenarios include "normal operation, modified on-campus, and distance learning." Modified on-campus learning entails learning on campus while keeping distancing rules of at least six feet even during classes. Schools within the U.S. have found that distancing rules are critical to containing the spread of the virus, but in doing so they must take on new creative solutions to keep students and faculty six feet apart and other various restrictions in order to ensure safety. As distance learning and the progression of the virus continues, it will become more clear which of the restrictions used by schools in Montana and Idaho have worked to ensure the decline of the virus. With a less dense population and resultantly less cases, these two states are looking to have their own phased opening sooner than other states.
Northern Germany has recently reopened some of its high schools and has its students test themselves on a bi-weekly basis. While some of their schools have found success through the reopening through continual testing, the reopening of schools and consequently workplaces, has brought an uptick in their reproduction level from below 1 to 1.13. This reproduction (R) represents the rate at which the virus is transferred between people.
In order for Hackley to safely open, there must be an understanding of the likeliness of returning to distance learning if the reproduction number of the virus inflates, as well as strict measures in place to keep this from happening. In other countries such as Germany, Norway, China, Japan, Taiwan, France, Denmark, and Australia, the measures taken to reopen their schools and prevent the spread of the virus have ranged from having one-fourth of each grade come in once a week to having all of the doors and windows open.
"It's less about, yes every window needs to be open, but it's more that when you see a school has done a certain thing like opening the windows, it makes you realize we need to think about what air circulation means here….We might not be taking every school's solution, but the way other schools are doing it helps us understand the issues we need to look at," Mr. Wirtz explained.
The experiences of schools across the world and in our country provide an example of what possibilities there are to reopen and what may not work. While we may not be able to predict what the most effective precautions will be when school reopens, it is clear that airflow, increased hygiene measures, smaller classes, staggered schedules, and the absence of large gatherings will be prudent in keeping the reproductive number down enough to be able to continue learning on campus. For some schools this has meant staggering breaks, having students bring their own lunch, enforcing the use of masks and distancing rules, dividing students into alternate attendance groups, and having daily temperature checks.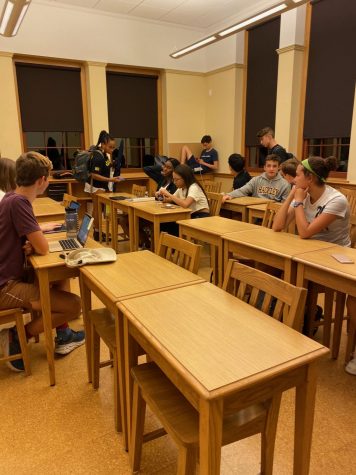 For the Hackley community, these measures may not look the same, but Mr. Wirtz believes that other schools' opening allows Hackley to see the importance of the same initial questions. These questions include transportation, staffing the nurse's office, food, and obtaining other resources that the community may need.
As time progresses and it becomes more clear what resources will be available, it will become easier to make decisions on what will be the safest measures for reopening. Most notably, a low reproduction rate has been kept when there is consistent testing, contact tracing, strict distancing rules, staggered schedules, and enforced stay at home orders for the sick and vulnerable groups. It is clear that many of these same actions will be important in the opening of the Hackley community, but how they will take shape will become clear as the resources available are assessed.
"Are there enough spaces where we can get people spread out and what does that look like? It might mean we are teaching a class in a squash court. We are going to look at all of those possibilities and then that will begin to answer the question of what does a school day look like," Mr. Wirtz said.
In order to keep safety a priority while running the school, Hackley teachers and administration will have to be creative in planning how learning will look going forward. Whether that entails classes outside or having classes in the Zetkov gym, Mr. Wirtz will prioritize the safety of the students and teachers in the classroom. Mr. Wirtz's approach in taking a position of caution against the uncertainty regarding what will and will not be a concrete solution to safely continue education has proved to be the best method to ensure the welfare of the community going forward.
"I am optimistic only about our community and our students and our ability to figure out this problem….because people are very committed to this place, and they want it to work and they work really well together. We start from an amazing place of strength as a community and as a school, and so I just feel optimistic about our ability to figure out all [this]," Mr. Wirtz maintained.
The distance learning experience has intensified the communal appreciation for being on campus. In the coming school year, we hope to find this through a balance of safety and Hackley's rigorous educational standards.
Leave a Comment