2020 Election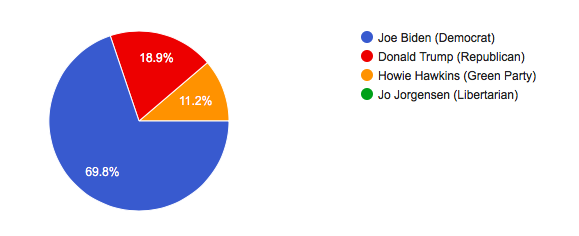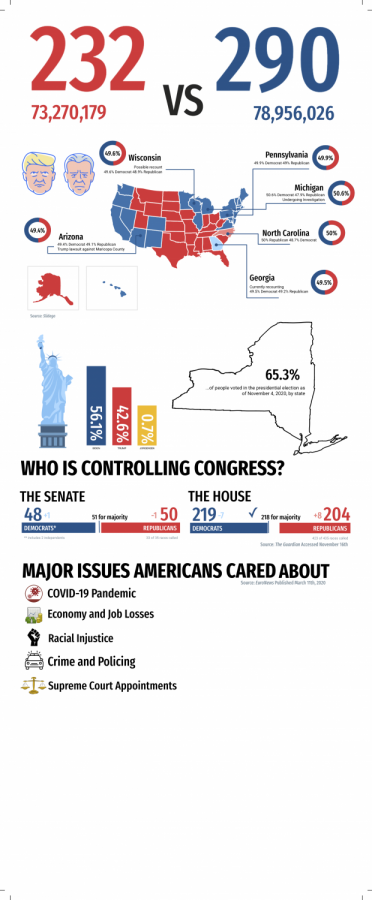 It's been four years since many of us sat stuck to our couches, eyes glued to the TV, nervously awaiting the results of the 2016 presidential election. Now, four years later, we are about to experience the same long-awaited night. While it is especially important to stay educated on political issues during an election year, with the COVID-19 pandemic and rise of the BLM movement it is important now more than ever to be politically educated and active. A number of Hackley Upper School seniors can and will vote in this election, making it ever so impactful to our community.
The Dial took this opportunity to poll the Hackley Upper School asking who they would vote for in the 2020 presidential election. As shown in the infographic, Joe Biden won the majority with about 70% of the votes, followed by Donald Trump with about 19%, and finally Howie Hawkins with the remaining 11% of the votes. In comparison to nationwide polling, the Hackley community appears to be more Democrat and less Republican, and with a small peak in the green party.
This year, there are four candidates: Former vice president Joe Biden (Democrat), President Donald Trump (Republican), Howie Hawkins (Green Party), and Jo Jorgensen (Libertarian). With Joe Biden and Donald Trump sailing ahead of the two minor party candidates, it looks like this election will be a close fight between the two, similar to the 2016 election primarily between Hillary Clinton and Donald Trump.
Leading up to every presidential election, the media emphasizes how monumental that given one will be. This rings most true this year due to the worst global health crisis we have seen in a century, COVID-19, making it key to take a look at the candidate's stances on this issue.
Joe Biden believes the American people deserve an urgent, robust, and professional response to the growing public health and economic crisis caused by the coronavirus. He plans to ensure that public health decisions, like mask-wearing mandates and schooling, are made by public health professionals and not politicians. He also plans to establish more testing sites including the necessary precautions to protect our health care workers.
Donald Trump has plans to "Open Up American Again," a multi-phase plan for reopening the economy. This includes establishing efficient screening and testing sites for symptomatic individuals. Although, in response to the CDC's mask-wearing recommendation, Trump said: "No. I want people to have a certain freedom, and I don't believe in that, no. And I don't agree with the statement that if everybody would wear a mask, everything disappears….[masks] cause problems too."
Howie Hawkins has devised a coronavirus relief package including medicare for all, COVID-19 testing and treatment, as well as the rapid distribution of necessary medical supplies. While Hawkins has plans for addressing the pandemic, his main priority is his Ecosocialist Green New Deal involving public ownership and planning in energy, manufacturing, and transportation, as well as his hopes for zero-to-negative carbon emissions by 2030.
Jo Jorgensen has plans to combat the coronavirus as well as the recession crisis by immediately granting FDA waiver requests for companies to produce COVID-19 tests, N-95 masks, ventilators, protective gear. She believes that unemployment is an equal if not greater issue than the coronavirus making it a priority of hers to ensure that those who test negative can return to work.
With a raging pandemic, systemic police brutality, global climate change, and now the death of Supreme Court Justice Ruth Bader Ginsberg, this presidential decision becomes more important by the day.
Government, history, and debate teacher Stephen Fitzpatrick noted, "This election will not solve the issues we face and does have the potential to make things worse. I wish I could be more hopeful."
While the upcoming election may be a source of stress, it is also an opportunity to further educate ourselves. "Read, read, read! While I understand the addictive nature of social media as much as anyone, viral video clips and cable news talking heads shouting at each other are no match for sustained, in-depth print analysis," Mr. Fitzpatrick said.
Not only will this be a presumably competitive election, but it will be a tricky one to navigate. With the impending pandemic, mail-in voting is a crucial part of this election, consequently making the United States Postal Service a topic of concern. In an effort to maintain social distancing and remain healthy, many voters plan to request absentee ballots and mail-in their votes as opposed to voting in person at the polls. Donald Trump's plans to defund the USPS means threatening mail-in voting, negatively impacting the communities and people that rely on it most. For those who plan to mail-in vote, it is necessary to request and fill out an absentee ballot as soon as possible to assure yourself a vote in this election!