Winter Sports Update
Two months into the winter season, Hackley sports teams are looking strong in games, matches, and meets as they prepare for the approaching Ivy's and NYSAIS competitions.
Hackley boys varsity squash is currently in fourth place in the New York League (NYL) overall, beating Fieldston and Dalton without dropping a single game. They also faced a tough match against Millburn High from New Jersey, the 16th-best team in the country but ended up losing only 4-3 in matches – proving the strength and depth of their team. Captains this year are junior Shiraz Awan, the #3 seed on the team, and senior Ben Korengold, #1 seed.
"Having lost various starters from last season, I'm really proud of the way that everyone has responded in assuming their responsibilities and displaying maximum effort in practice," Shiraz said.
The boys are also led by coach Edgardo Gonzalez, a first-year coach for the team.
Along with boys squash, girls squash also sits fourth in the NYL after beating Brearly, Rye Country Day, Rye High School, Dalton, and Horace Mann comfortably with consistent 7-0 and 6-1 wins. Team captains this year are seniors Wylie Churchill and Eleanor Neu.
"In all the four years I've played squash at Hackley this team by far has been the strongest which makes me excited for what's to come," said senior Wylie Churchill.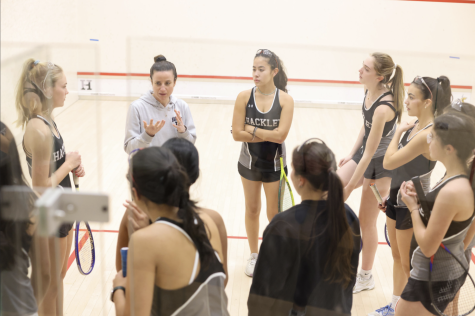 Both squash teams are qualified and are headed to Nationals on February 23rd to compete against the top teams in the country at the Arlen Specter Center in Philadelphia. Along with the varsity squash teams, the boys and girls squash junior varsity teams are also having successful seasons so far with upcoming matches against Rye High School.
Sophomore Frances Clifford on the JV team said, "we do not have many games which is unfortunate but the team is a lot of fun to be around during practice and at matches."
Hackley girls basketball starts the season off strong sweeping the Columbia Prep tournament and beating Horace Mann, Fieldston, and Rye Country Day bringing them to sit at the top of the league.
Junior Ashley Currie, a star player on the team, said, "We have a 7 and 2 record and I really like our team's chemistry this year. We have a good team connection and overall this team seems like a really good group that has contributed to our success so far in the season."
In the team's recent game against Horace Mann, junior Enya Walsh, senior and captain Sophia Petriello, and junior Alessa Mendoza were recognized by Lohud for their stellar performances. The girls junior varsity team is also off to a great start recently beating the French American school by a landslide 35 points, showing the depth of the girls basketball program at Hackley.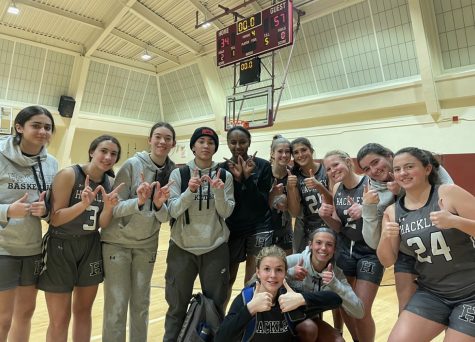 The boys varsity basketball team is also off to a successful start, also coming in first place at the Columbia Prep tournament. They continue to deliver with wins against Horace Mann and Harvey and a very close winter sting loss against Poly Prep. Sophomore Charlie Perlman, a first-year starter on the team said, "I think this has been one of the strongest teams in recent history so far. We struggled a bit with sickness early on in the season but I'm confident we will prove the strength of our team in the coming weeks." Along with the varsity teams the boys junior varsity team continues to show their strength on the court and has an upcoming match-up with Horace Mann.
Hackley Varsity Swimming continues to show another year of success in the pool with recent wins over Dalton and Horace Mann for the girls, while the boys have had many close meets but unfortunate endings as their boys roster is limited with only five participants. Swimming has a meet coming up against Fieldston and hopes to continue the fire and progress within the team. Senior and captain Colin McKinnon said, "Our girls team overall has been really strong this year as we have a lot of new freshmen and eighth graders. I'm proud of how the boys have stepped up after losing a lot of boys from last year."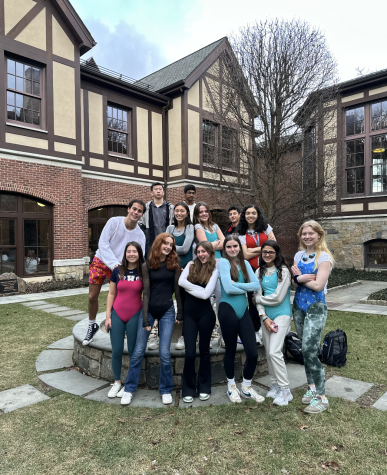 Fencing swords have proven to be sharp as they storm out into the winter season with wins over Chapin, Horace Mann, Marymount, and more. Girls foil and boys saber are notably leading the team with the most wins. Captains this year are senior Afsana Dhali and junior Sam Sanders.
Sophomore Francesca Jones, former manager and now a member of the team, said, "We are pretty optimistic this year and are excited for the ISFL team championships. Unfortunately, the championships are during exams which pose extra stress but we hope to do well." Eighth-grader Zizi Dai and number one fencer in the league said, "I was super excited to fence in my first sting last week and overall to participate on a varsity team which gives me a bit of a glimpse into High School next year.."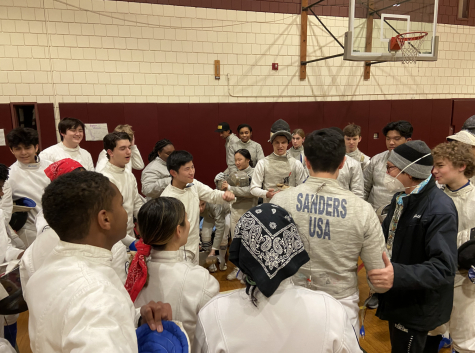 Hackley Varsity Wrestling is also buzzing with success after achieving many wins and accomplishments this season. Senior Cole Joseph recently won his 100th match, one of five wrestlers in Hackley history to do so. Cole was also featured in Lohud's mean 15 list of wrestlers to watch this season. The team has celebrated recent wins against Horace Mann, Xavier, Martin Luther, and Rye Country Day. Junior Harper Kelsey said, "This is the largest team we've had in years so a lot of us are new to the sport but I'm really impressed with the progress we've made throughout the season. They've made incredible showings in tournaments so far which makes me super optimistic for the future."
Last but not least, the indoor track team has been off to a speedy start in the winter season with notable wins in field events including shot put, high jump, and weight throw. Sprinting events have also been strong for Hackley, especially the 55m sprints in which the team recently placed third overall. Leading the team this year is junior Travis Knaggs, senior Elizabeth Rudge, senior Ella Rodriguez, senior Willow Quattrone, junior Teddy Estrada, and junior Asher Beck. Coaching the team is Mr. Hall, Mr. Karpinski, and Mr. McLay.
Sophomore Fox Quattrone said, "Everyone is training really hard and performing really well in the meets. The freshman, Sophie Frazier, qualified for nationals in the 600m which is insane. We have a really strong group of committed runners and coaches which have made the season really successful so far."
Leave a Comment