Essentials to Know if You Do Not Follow the World Cup
After four long years of qualification with 206 teams competing from around the world, 865 matches played, and 2,424 goals scored, the 22nd FIFA World Cup began and ran until December 18th. 
This World Cup is the first to be hosted in a Middle Eastern country and is very different from past World Cups in terms of results, infrastructure, and location. It is being hosted in the winter for the first time due to Qatar's extreme temperatures in the summer. 
This global sporting event starts with 32 teams separated into eight groups of four in a round-robin format. This part of the event is often called the group stage. Groups A-H has four teams each and every team plays every other team in the group. The goal is to get the top two in the group to move on to the bracket of the tournament later on. 
A win results in 3 points while a loss results in 0 points earned. During the group stages, ties are allowed without any extra time, golden goal, or penalty shootouts after full time. 
"I feel like we need a format for after matches rather than just ending in a tie. It's anticlimactic, and you can see the players', audience, and coaches' disappointment after a tie. I think there should be some sort of overtime or penalty shootout at the end. But I do get how they keep it a tie to save time during initial stages," said sophomore Andre Reichesldorfer.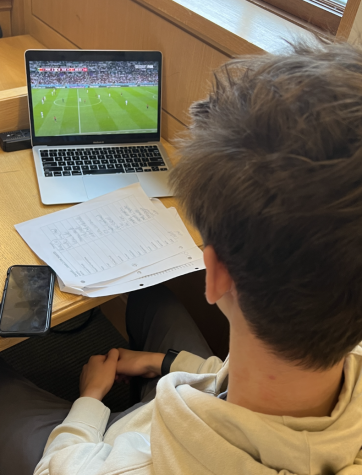 A tie results in 1 point which often ends up becoming the game changer in who moves onto the bracket. After all groups play their six matches the top two teams in every group are arranged in a bracket leaving the tournament to be a 16-team battle. After that, a traditional bracket-style format is played with single elimination leaving two teams in the final on December 18th. 
Qatar, a country slightly smaller than the US state of Connecticut, was chosen as the venue for the World Cup in 2010.
In Qatar there are seven of the eight stadiums used for the event were newly built, many hotels in anticipation for fans, and even a yurt village for any overflow of fans. Qatar has reportedly invested $210 billion dollars into this event which is 14 times the amount of money spent in Russia in 2018 and is the most amount of money spent on a FIFA World Cup ever.  
Qatar plans to take apart its stadiums and infrastructure once the world cup is over but it's the way they are planning to do it that is drawing attention. Qatar's stadiums all have plans to disassemble them and put them into use around the world. 
The Education City stadium on the outskirts of Doha will become a huge sports and leisure complex in the heart of the education city district of Qatar. Stadium 974 made of recycled shipping and cargo containers will be disassembled and used as shipping containers to transport goods.  Lusail Stadium will become a community area with schools, stores, cafes, gyms, and medical services. A five-star hotel, a mall, and a sports medical center will be constructed in Al-Bayt stadium. 
All of the construction happening after the World Cup is part of the 30-year plan to put Qatar on the map as a country that has the smallest carbon footprint in the world. Everything done to reset from the World Cup is expected to be done with environmental care in mind. 
Qatar is a country where its citizens are the minority due to the number of migrant workers who reside in the country. Qatar's government expects 1.2 million fans to travel to Qatar which will promote tourism as well as a population increase which the country needs after the population was predicted to decrease over the next few decades. Overall, this World Cup has a specific intention to improve Qatar's carbon footprint as well as infrastructure through the reconstruction of stadiums.
But what has happened so far? Group stages are over and we are onto the knockout rounds. Germany, Belgium, Brazil, and Portugal all teams expected to reach far all head home as weaker teams give a huge performance during the group stages and allow them to move on to knockout rounds for a chance at the trophy. 
The US national team that progressed past the group stages despite previous doubt, lost an exciting match to the Netherlands which knocked them out of the tournament. 
This particular World Cup so far has had many notable upsets creating uncertainty for the future. 
Saudi Arabia came in only qualifying for six world cups ever but started off strong on day three beating Messi and the Argentinian team who is expected to go all the way for many. "It was a surreal match, I wasn't planning to watch as I was sure Argentina had that win in the bag," said sophomore Arjun. 
Japan followed the next day with a convincing win against Germany, another strong team who has been performing at the top at almost every world cup so far. Japan was not done yet and had an unbelievable comeback against Spain in the last match of the group to boost them to the top and win the group overall. 
Another notable upset was France, a team who many thought was going to win the world cup overall was shockingly outplayed by Tunisia ending in a loss for France and a tremendous amount of shocked fans around the world.
Cameroon similarly took down Brazil with a firecracker of a goal from Vincent Aboubakar. As the World Cup concluded fans were thrilled with much uncertainty due to the vast amount of shocking upsets. 
Fast forwarding to December 18th the day of the final there was still much left to prove by the French and Argentinian players who were ready to play their hearts out in one of the most important games in their careers. For Messi, the star player of the Argentinian team and considered the best player of all time had a lot to prove as he has played in 5 world cups but never came out with a win. This final match was also expected to be Messi's last World Cup appearance ever. The final started with Argentina gaining strong possession and controlling the first half with a lead of 2-0 going into halftime. France was not done yet and Kylian Mbappe, France's star player came out of halftime ready for revenge. He went on to score not one but two goals back to back in a three-minute span. Most fans were shocked at this fast and unexpected comeback. The game went on to extra time but no team was able to clinch the right opportunity and score. Fans were ecstatic and ready to see penalties close out the final match of the world cup. Some fans were seen crying on TV due to the immense amount of meaning these penalty kicks had to them and their country. It was Montiel in the 117th minute who sealed the deal and won the World Cup for Argentina. The Argentinian team ultimately scored four penalties to France's two thanks to Martinez for an amazing display as goalkeeper. Overall this match has been claimed by many to be one of the most exciting and best-quality matches of all time as it never failed to keep fans nervous out of their seats cheering on their teams.
While the World Cup has provided thrilling matches for people around the world, this specific World Cup has also caused controversy when many details were revealed about the past four years in Doha.  
At just 4,471 square miles, Qatar is the smallest country to hold the world cup. There was much concern that Qatar had no infrastructure to host one of the biggest sporting events in the world. As Qatar revealed its new stadiums and city centers, many were shocked but shock turned to disgust as the truth came out. 
Qatar turned to its mass population of migrant workers to build its stadium. Workers couldn't leave because their employment was tied to their visas and many had nowhere else to turn to. Working and living conditions for those migrant workers were frequently exploitative and dangerous. 
A 2021 investigation by the Guardian found that more than 6,500 migrant workers from five south Asian countries had died in Qatar since 2010 from all causes of workplace accidents, car crashes, suicides, and deaths from other causes, including heat. Migrant workers had to live in overpopulated labor camps equipped with almost no food or common toiletries.
After the uproar on social media and news outlets about Qatar's violation of human rights, Qatar refused to acknowledge more than 3 deaths and never explained nor acknowledged the rest of the deceased.
Also, in Qatar homosexuality is also effectively criminalized and could lead to 7 years in prison. Qatar's strict policies that target the LGBTQ+ community drew back many people planning to attend the World Cup in protest. The German team attempted to wear one love rainbow armbands in support of the LGBTQ+ community. Later, the players were asked to remove their armbands as it disrespects Qatari law. 
Harry Kane and many other European captains have spoken out and are expected to keep their armbands on in support. Altogether, the World Cup has brought to light human rights violations during the construction of the stadiums as well as Qatari law enforcement's decisions to disrespect and ban the LGBTQ+ community.
In conclusion, the 2022 Qatar World cup has been an exciting one with many unthinkable upsets and nail-biting matches. Qatar, a very small country that spent a large amount of money, is coming under fire for its controversial process of constructing the infrastructure for the global event.  
Leave a Comment