Ms. Jean Announces Her Departure from Hackley School
Over winter break, Head of School Michael Wirtz announced Cyndy Jean, Assistant Head for Community and Inclusivity, will be departing from the Hackley School. Ms. Jean has been appointed Assistant Head of School for Academics at Thayer Academy in Braintree, Massachusetts. Additionally, she will be working at this school's University of Pennsylvania Independent School Teaching Residency and serving as an adjunct professor in UPenn's Graduate School of Education. Ms. Jean will finish out the 2022-2023 academic year on the Hilltop, before assuming her new position on July 1, 2023.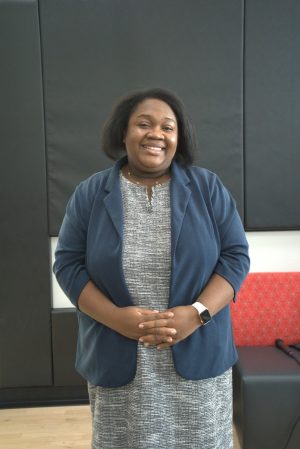 At Thayer, Ms. Jean will focus on the academic program of the school,  thinking creatively about things such as additional education opportunities, guest speakers, hiring processes, and professional development. She will also be teaching a class, which she is very excited about.
Additionally, Ms. Jean will be teaching at a graduate school for people who want to become teachers. While her job description is very broad, she is mainly trying to get Thayer to where they want to go next. 
Ms. Jean earned a Master's degree at Teachers College, Columbia University, and is currently completing doctoral work at the University of Pennsylvania. She has been working at Hackley for sixteen years, assuming many different positions, including a Lower school Assistant teacher, an English teacher in the Middle School, Head of the Middle School, and Hackley's first Assistant Head for Community and Inclusivity since last year. 
She has done so much for the Hackley community, including designing and leading Hackley's Teaching Fellowship program, developing student-led conferences in the Middle School, overseeing the development of a multi-year DEI plan, developing systems and structure for DEI work at Hackley, and so much more. Ms. Jean is proud of the systems she has created in her role as Assistant Head for Community and Inclusivity, building a foundation for whoever will take on this role next. Once the new head of school is selected, a position for Assistant Head for Community and Inclusivity will be selected by the new Head of School. 
Ms. Jean has valued the variety of roles she has been able to fill.
 "One of the things I'm really proud of is that over my time here at Hackley I've gotten to know a lot about this school from various angles," she said. Because of the many different positions she has had, Ms. Jean has been able to see the Hilltop through all three divisions. 
"For me it just boils down to the human connection," she said. Ms. Jean expressed how she has made many different friendships at Hackley, and how she will miss the people a lot. She hopes that these relationships will continue, even after she has left the Hilltop. She will also miss being in the same place as her kids, and seeing how they learn. 
"I have a lot of emotions," she said, "I think the very first emotion is a deep sadness. I really am sad about leaving, I'm going to miss Hackley a lot…I'm also a little bit nervous for a new job to start. I'm very excited but equally nervous to make sure that I will do a good job. And I think, lastly, I'm feeling curious about where Hackley will go and what the school will do long after I'm gone."
Of all the positions Ms. Jean has had here, she has most enjoyed being a fifth-grade English teacher for three years. "I miss it a lot. I think I grew a lot in my position there. And if you were to ask me, 'Cyndy, you know, could you come and be the fifth grade English teacher?' I would say yes in a heartbeat." 
Ms. Jean expressed how impactful her current job has been. 
"I think in the last two years [my job] has really opened my eyes to facets of Hackley," she said, "It's been a really big learning role for me. It's helped me to connect with Upper Schoolers where I didn't really have that opportunity before. And I think I'm just learning a lot about myself, and about who I am as a leader, and how I respond to community and community needs." 
Many students and faculty will be sad to see Ms. Jean leave the Hilltop. Freshman Jiya Dhakad was upset to hear the news.
"I was honestly so sad," she said, "Me and my mom cried because she was always there for me for everything." Jiya explained that "[Ms. Jean] was more than just a Middle School head" and that "she really makes sure that people have a voice." 
Others expressed surprise, coming on the heels of other departures.
"I was really surprised because we just found out that Mr. Wirtz was leaving so it was kind of unexpected because it felt like a bunch of the administration was leaving all at once," said Sophomore Megan Hopkins, "[Ms. Jean] has definitely been a big part of my Hackley experience because she was everyone's boss for my three years at Middle School."
Leave a Comment