En Garde! Aiden McComiskey Travels to Latvia for Junior World Cup
When you think of what Hackley students were doing pre-Thanksgiving break, flying to Latvia for the Junior Fencing World Cup is not exactly something that may come to mind. However, senior Aiden McComiskey did just that in an extremely quick trip, landing in Latvia and retuning home within three days.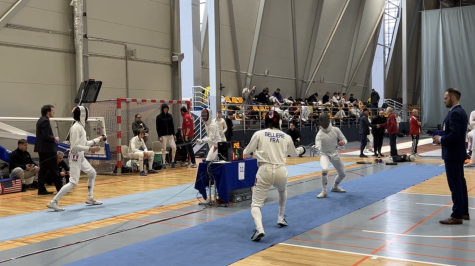 Aiden is part of the Irish National fencing team since his father was born in Ireland and they were actively looking for members to boost their team's skills. After a simple google search to see if he could reach out to the coach, he did just that and then was accepted to the team, "on the condition that I attend an international event in Ireland in October once a year," he said. This seems daunting, but Aiden talks about his spot on a foreign National team like it is no big deal. Aiden has been fencing since he was in elementary school, and he says that his focus is on club and national tournaments. He does not fence for Hackley, as he is too busy with his other endeavors. 
When he set out for Latvia, Aiden decided that his main goal was to "get a feel for a national tournament and see what they were really like physically," and he was able to achieve this. He discovered that the physical setting of the tournament was very similar to US championships, with everything being held in one large room, big enough for all players to have space to warm up and fence. 
Although the space was similar to US tournaments, one of Aiden's biggest problems was the difference between how Latvia and the United States run the tournaments. 
"I got to the tournament at around 7:15 a.m. and then went to get my blades checked. I guess the regulations in the US must have been less strict than this competition because all four of my blades failed," he said, "I then spent the next hour fixing them which was quite stressful, but in the end, they were all able to pass." 
Aiden was able to bounce back and complete his goals for the tournament. One of his main goals was to see how he stacked up against more professional players, and he said that "while there were some of the strongest fencers I've seen at competitions, most of the fencers seemed no better than at a US national event." He was able to calm his nerves by watching some of the fencers in the first group play as he was in the second group. 
Fencing wasn't the only thing Aiden got to do in Latvia—he got to spend the better part of a day exploring Latvia and seeing the sights. Aiden "had visited Europe before, but this was my first experience in Eastern Europe. I didn't really know what to expect, but I was very positively surprised with much of what I saw." Riga, the city in Latvia where the tournament was held, boasts impressive architecture and great food. Aiden also visited some blimp hangars which he thought were particularly interesting. Unfortunately, he had limited time to look around, but he packed it full of sightseeing. 
Leave a Comment