Upper School Students and Faculty Host Taylor Swift Friendship Bracelet Making Party
"So, make the friendship bracelets, take the moment and taste it / You've got no reason to be afraid." This is exactly what Hackley Swifties did after hearing Taylor Swift's lyric from "You're On Your Own Kid." On Monday, April 17, students and faculty gathered in the Lindsay room during lunch for a Taylor Swift friendship bracelet-making party. While some of the community's favorite Taylor Swift songs played in the background, such as "Death by a Thousand Cuts" and "All Too Well (Ten Minute Version) (Taylor's Version)," Swifties of the Hackley community sat and made friendship bracelets.
Many made their friendship bracelets based on their favorite Taylor Swift songs or albums, such as "Exile," "Lover", and "Lavender Haze." 
Middle and Upper School French and Chinese teacher, Tuo Liu, had the idea of hosting this party. This idea was to echo the above lyric, which inspired many Swifties to give each other Taylor Swift-related friendship bracelets at the Eras Tour. Many Swifities have even made TikToks showing off their bracelets, and giving other Swifities different ideas and inspirations for their own bracelets. 
Mr. Liu originally had the idea of hosting this party only for teachers, as he is going to The Eras Tour in May, but then decided to open it to Upper School students, as he knew many would enjoy it. 
Mr. Liu would love to participate in more Taylor Swift-related events, whether it be karaoke or trivia, but notes that forming any Taylor Swift club would be up to the students.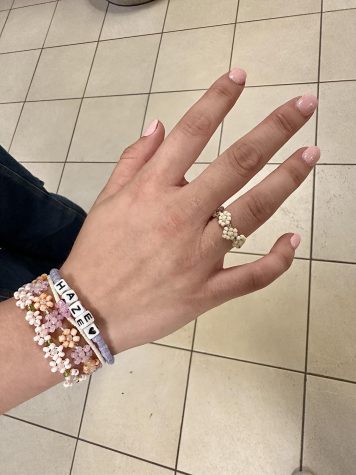 "I was happy to see all the excitement, and all the people really focused on their bracelets and making beautiful, fancy, elaborate bracelets."
Sophomore and Swiftie Francesca Jones had a great time at the party.
 "I think it was really fun. The vibes were great, the playlist, obviously, was amazing and I think the resources were good." She also comments that "it was really nice of people to set up and nice of people to bring food." She is excited to attend the Eras Tour in May and will be bringing the bracelets she made at the party with her. 
Sophomore Megan Hopkins also enjoyed making friendship bracelets with other Swifites. 
"I think there definitely was a sense of community because a lot of people in there, or most of the people in there, were big Taylor Swift fans, so it was fun listening to that music with everyone. They definitely knew most of it was as well, so that was a good part of it." 
Mr. Liu will also be hosting a friendship bracelet-making party for Middle Schoolers during their lunch sometime before Taylor's New York shows and welcomes Upper Schoolers to come as well.  
Leave a Comment