Book of the Month: I'm Glad My Mom Died
Enjoyed by many, June's book of the month is I'm Glad My Mom Died, by critically acclaimed author Janette McCurdy.
McCurdy is best known for her popular Nickelodeon series that kicked off her career: iCarly or Sam & Cat, but others may just know her now due to her book that was released earlier last year.
After the hit show iCarly ended, Janette McCurdy essentially went off the grid for a while. She took up roles in smaller movies and TV shows up until her New York Times Bestseller was published and gave the iCarly star the opportunity to tell her story and give people a better insight into what it is like to be a child actor.
In her book, McCurdy talks through the struggles and hardships of being an actor at such a young age and the many different challenges she faced in order to take back her life from her overbearing mother. She recounts all of the words spoken and moments leading up to her becoming an actor in unflinching detail, sharing her relationship with her troubling mother and her life before and after her mother's death. Throughout her story, she discusses difficult topics such as eating disorders, anxiety, and addiction while she was filming the hit show, and trying to please her mother by pursuing her dream of having a child star.
"The title of the book was what immediately drew me in," sophomore Megan Hopkins said, "It was interesting to see a different perspective into the life of an actor, especially one I had watched so much as a kid."
The novel is an inspiring story of resilience and finding the power to take your life back into your own hands. It's both a heartbreaking and hilarious memoir and shows how Janette McCurdy was able to overcome the many obstacles thrown her way and decide for the first time what she truly wanted to do in her life.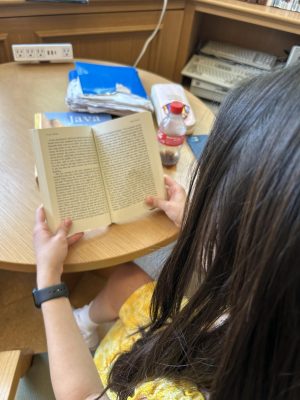 Since its release, Jannette McCurdy's book has sold over 500,000 copies worldwide and continues to thrive in numbers. She was awarded Best Memoir & Autobiography in the Goodreads Choice Awards and was on The New York Times Bestseller for eight weeks straight. Her success with the novel continues to flourish to this day, and she is continuing her career as a young author in both nonfiction and fiction.
Leave a Comment