Students, faculty, alumni, and families filled the stands with school spirit and excitement at the 2023 Fall Sting.
The first game of the afternoon started at 4:00 p.m. when the field hockey team faced off against Riverdale. 
The field hockey team dominated throughout the game with goals from senior captain Lulu Bednar and junior Kayce Park. At the final whistle, the girls won with a final score of 3-1. The girls' soccer team also faced Riverdale with their game starting at 4:30. The girls started off strong, scoring two goals in the first half of the game. Junior Brooke Koffler and sophomore Gabriella Petriello led the team with one goal each. The girls continued to apply pressure in the second half, eventually winning the game with a final score of 2-1. 
"It was a really fun experience. This was my first time playing during a Sting and the energy from the crowd really helped us win," junior Kayce Park said. 
The third game of the afternoon was the boys' soccer team matching up against Riverdale as well. After jumping out to an early 1-0 lead, thanks to a goal by senior captain Ber Bennett, Riverdale ultimately ended up winning after a two-goal comeback.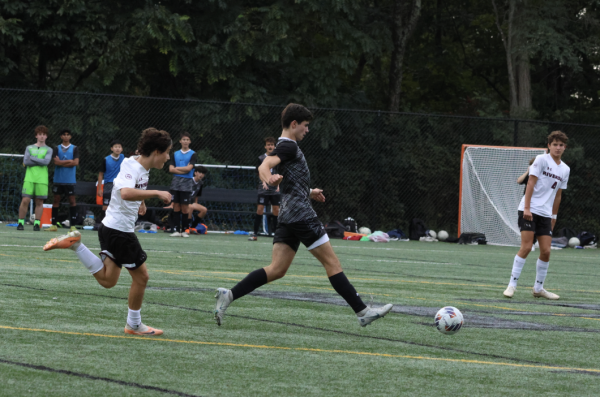 "It was a tough loss, but I know we are going to bounce back. It was also really fun to have so many people come out to support us," sophomore Andrew Carpenito said. 
At 4:30 p.m. the girls' tennis team also played against Riverdale. After back-and-forth sets, taking it to five matches, the girls ultimately lost 3-2.  
In anticipation of the final game of the night, the seniors led the "March on the Arch," a tradition started by the class of 2022. Led by seniors Mac Broaddus and Edele Brennan, students gathered at Saperstein Arch in order to prepare for the final game. After speeches that got the crowd pumped up, students ran up Alumni Drive and stormed the stands of Pickert Field. 
At the final game of Sting the football team competed against Montclair Kimberley Academy. Both teams battled, but Hackley jumped out to an 8-0 lead when senior captain Matthew Kearns rushed for a touchdown followed by a two-point conversion. The boys protected their lead for the remainder of the game, eventually winning with a final score of 8-6. 
"The student section was packed and was a big help to us throughout the game. I loved being able to play in front of the big crowd and am happy we ended up with the win," Matthew Kearns said. Overall, Hackley had a successful Sting winning three out of their five games. The energy present throughout campus brought the community together, making it an enjoyable experience for all. Hopefully, the energy and school spirit will continue throughout the fall season.