It's a gamble: will you make it to the top swiftly, or will you be stuck in traffic for 15 minutes and be late? Benedict Avenue is notorious for making students and faculty late, and just being annoying. Now more than ever students are focused on getting to school on time due to detention, ultimately leading to more traffic and cars on the avenue. So the question is, how do the students feel, and what do we do about it?
The types of students who experience this can be summarized into two categories: drivers and students who are driven. For new drivers, this is especially inconvenient since they are just figuring out how to get to and from school during rush hour traffic safely.
For most, the issue lies on the very steep hill of Benedict right off of White Plains Road. On the other side of Benedict, the traffic on the avenue is manageable. After a ton of trial and error, Senior driver Tommy Troso even went as far as to say: " Yeah, I used to go the infamous route with the hill, but I have changed my route in order to prevent being late. It's a total gamble."
The guessing game that new drivers have to play is extremely irritating and borderline dangerous. Junior Hugo Everitt said, "It's really annoying because if I get to the hill at 7:45 you miss all that traffic but if you get there 5 minutes later, you are then running late to class and risk the possibility of detention." Additionally, it gets even more stre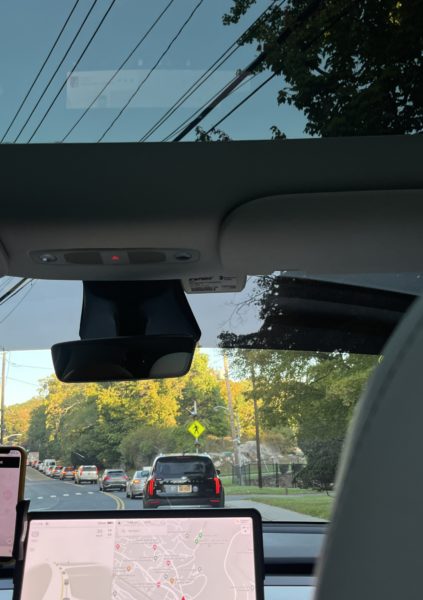 ssful because there are Hackley parents and other drivers that tend to speed up or cut people off, before getting off White Plains Road and onto Benedict.
With the cold winter months ahead, this problem is only going to get worse. Whether it be ice, snow, or rain, students will end up having to leave their homes even earlier due to the inclement weather. However, even with the huge tropical storm (in early October), it is clear that the Hackley faculty is willing to give us the "benefit of the doubt" and a "free pass" when students are late due to the weather. Many students were happy to hear that tardiness was excused for rainy days like those, and they hope to see more of that in the future.
Even students who take the bus, where it is out of their control, still feel this anxiousness due to the traffic on the avenue.
"I think it's all about finding time and creating a system," said junior Sam Suniewick. For both new drivers and older ones the rush to get to the bottom of the hill by 7:45 is never easy; however, it is most important to drive safely and figure out what is best for you and your schedule.
The question is then: What do we do about it? Many students have proposed various solutions to the conflict; such as making King Field an entrance for the Upper Schoolers, or even changing the lines on the road to make a right-only lane. Although all of these ideas seem plausible, it is really up to student drivers, buses, and families to figure out a plan that works best for them. Especially with the new detentions and policies, only time will determine what the student's "gamble" will be like in the months to come.