Almost anything can be done digitally today, and the ACT is no longer an exception.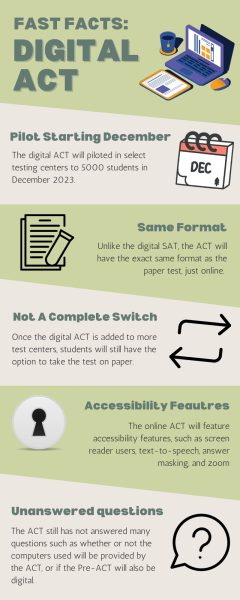 On May 30, 2023, Janet Godwin, the CEO of ACT, announced that the ACT would be introducing a new digital format to their test. In a blog post, Godwin said, "Our commitment to our mission requires that we meet the changing needs and expectations of students and their families, educators, employers, and employees."
The ACT has been offered online to international students since 2018 and has been tested nationally by states and districts since 2016. Starting in December of 2023, ACT will pilot its online test at select centers for 5,000 students. Registration for these tests began in July this year and is still open now. 
Near Hackley, the digital ACT will be offered at both Abraham Lincoln High School in Brooklyn, and Newark Collegiate Academy in Newark, New Jersey. Godwin states their reasons for piloting the test before releasing it to more test centers are "to allow for controlled implementation, to consider feedback, and to ensure the best possible testing experience for students." Throughout next year, they are going to be adding more test centers where the digital option will be available. 
This change is not very surprising, considering that the SAT is going completely digital at the start of 2024. While the format of the SAT changed when it went from paper to online, the ACT format will stay the same. Score reporting, test fees, and the ACT fee waiver program will also remain the same for both options. Additionally, as of right now, the ACT does not plan to transition completely to a digital format; instead, they want students to have the option of either format, depending on what works best for them. 
Junior India Davis-Hanessian, who is going to be taking the ACT, would rather take the test on paper.
"If they're not changing the layout at all, I prefer the paper, and having the ability to read it and write it down," she said. Although she understands why some might prefer taking the test online, given the option, she would rather continue to take it on paper.
Junior Zora Teacher is also planning on taking the ACT but does not have very strong opinions on which format to take the test. She has heard from others that it is easier to take the ACT on paper, but since the test is not changing format, she also thinks it will be okay to take it online.  
Taking the digital ACT can be especially helpful for students, as it will have more accessibility features than the paper format. Some of these include extra support for screen reader users, text-to-speech, answer masking, and zoom. 
There are many questions that the ACT has not addressed about how the digital ACT will work. These include whether or not students will use their own devices or ones provided by the ACT or if the PreACT will be digital as well. 
Junior Lucia Butterfield is taking the SAT, and while she hasn't taken an official online SAT yet, she has taken many practice tests online and does not mind the digital version. 
"I think when I first did it on paper it was good because I got to write notes, and I got to keep track of which ones I didn't want to choose, which options I liked, which ones I didn't. But there is something satisfying about at least using a digital one for practice, because then you get to go back, and the grades come out immediately and you get to see what you did wrong."