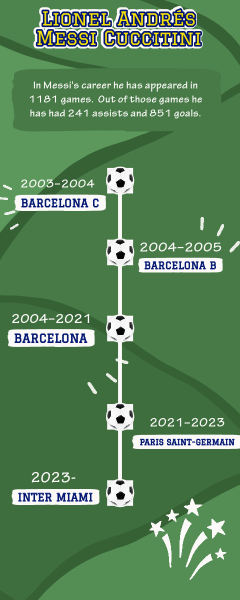 Lionel Messi is arguably one of the best soccer players in the entire world. The season before Messi came to Inter Miami, the team struggled for success, ending the season with only six wins. This season, Inter Miami has only lost one out of twelve games when Messi has played. 
The world-renowned player's move to Inter Miami was a very big deal for devoted fans and soccer lovers alike. In his career he has had 1,181 appearances and those appearances he has scored 851 goals and has had 241 assists. 
As Messi's contract with his prior team Paris St Germain came to an end he had the opportunity to choose where he would continue his soccer career. Messi was presented with two major offers, one from Saudi club Al Hilal and one from Inter Miami. He ultimately decided to play with Inter Miami. 
 This transition does not only impact his journey but changes the way people view Major League Soccer. People used to view the MLS as a secondary league compared to the different European leagues. Now that they have Messi, they are looked at with greater authority. The three main reasons that impacted Messi's decision to play for Inter Miami were the wellness of his family, money, and his overall love for soccer.
According to the Daily Mail, "Messi is known for being a family man, spending time with his three sons – Thiago, 10, Mateo, 7, and Ciro, 5, – as well as his wife Antonela Roccuzzo." 
"He chose to come to the US because it's better for his family and kids," sophomore  Andrew Carpenito said. 
"He has three kids and speaks Spanish so moving to Miami was a good move for his family," said sophomore Mateo Arencibia. 
By moving to Miami, Messi would be able to stay in the US while living in a predominantly Spanish-speaking city. As he already had a house there and visited frequently, Messi knew what life would be like there. Therefore, he was easily able to make his wife and kids happy. 
As stated, another reason Messi moved to Miami regards money. However, fans are skeptical that money was the main motivation.  
"I don't think he moved to Miami for money because he had other offers from Saudi Arabia for a billion dollars. He also has a lot of money currently," said Andrew Carpenito. 
Andrew thinks that the other reasons completely eclipse the financial aspect of the move. He points out that Messi already had a lot of money from playing on Argentina.
"Messi had other offers that could have given him way more money than moving to Miami," said Andrew. 
However, others disagree. 
Saudi club Al Hilal was willing to offer Messi an initial payment of 1.3 billion covering a three year contract, according to Forbes. However, from Miami, Messi will be able to earn money every year.  According to SSBM, by the end of 2025, Messi's career earnings will reach an estimated $1.6 billion. Messi's offer with Miami was for two and a half seasons. This will ensure Messi will never have to worry about money. 
"Over the years Messi will be able to make more money than he would have made from Saudi Arabia," said sophomore Tristan Payne. 
Tristan feels that money was one, if not the main reason for Messi's move. He thinks Messi wanted to have enough money for him and his family that he would never have to worry about again. 
The final reason is Messi's love for soccer and how his skills would benefit Miami. Before Messi came to the team, Inter Miami struggled greatly and were unable to win most games. However, immediately after Messi joined, they won eleven straight games.