Cell phone companies release new software to combat phone overuse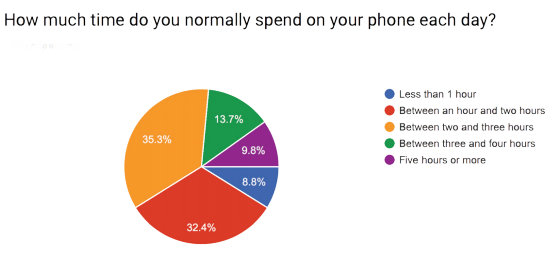 Four point seven hours: the amount of time every day that an American spends on their phone. Given that most are awake for about fifteen hours each day, spending nearly one third of the day on a mobile device is a staggering statistic. While the thought of smartphones being a key part of people's lives is not a new concept, many people may not have realized exactly how much time they were spending on these devices.
While the average hours that Hackley students seem to spend on their phone each day is not nearly as high as the national average, it is clear that the Hackley community still uses their phones for several hours each day, given that the average amount of time that Hackley students use their phone when surveyed was between two and three hours per day.
Android and iOS have been updated over the years to be able to complete more tasks while being more intuitive, efficient, and enjoyable to use for the customer. While this is reasonable in theory, there is a glaring problem: people have discovered the convenience of using their phone for more and more everyday tasks, and it has caused people to spend hours on their phone as they develop a reliance on the device.
Companies have recognized this phenomenon as well. Google has some new software to combat the problem with phone usage, entitled Digital Wellbeing. At the main menu, there is a large circle at the top, which contains a variety of colors. Each color represents a certain application and when clicked, gives more information on how much time was spent on each application. In the middle of the circle resides the amount of time the screen has been used during that day.
Within this menu, the number of times the phone has been unlocked and how many notifications have been received that day. This information alone already presents the user with valuable insight into just how much people reach for their phone.
Google does not just have this information available, but they also have ways for people to disconnect. One method is Dashboard, which allows the user to not only access information on how much each application is being used and how many notifications they receive from each application, but also gives the ability to set a timer for how long they want to limit their usage to a certain application each day. For example, a person can set Instagram to only be available for 30 minutes, and then it will not be able to be accessed until the next day.
Wind Down is another way for people to decrease their phone usage, and this is where certain actions are triggered near bedtime. Wind Down makes the phone grayscale, turns off notifications, and as a result, will hopefully encourage the user to want to stop using their phone and go to sleep.
On iOS devices, there also exists features that help users manage their phone usage. The software Screen Time tells the user how long their screen has been used on a given day. It also informs the user about how often they pick up their device, which apps are used the most, and which send the most notifications. Screen Time gives detailed information about what applications have been used in the last 24 hours, and for how long is present. These can be viewed by individual application or by categories of applications.
Features to control usage are present here too. Downtime gives users the opportunity to schedule time without phone usage, and app limits serve the same purpose as the app limits feature on the Digital Wellbeing software by Google.
With phones becoming more versatile and easier to use, people are relying on them more. Companies like Apple and Google have both released software this fall to try and address this issue. But this is just the beginning, as the features, while useful, are still limited and require the user to do a lot of work in order to take full advantage of them. In the Hackley community, these features seem to only help a limited number of people and therefore indicate that companies should continue to improve the software and make it easier to use.
However, it is a step in the right direction, as it has influenced some users already to limit their phone use. As smartphones will only become more useful in people's lives in the near future, companies need to continue to focus on the issue of overuse in a way that can benefit both the user and the creator.