Cooking & Culture: Chalan's Ecuadorian cuisine
April 29, 2019
What is our personal connection to food? It's essential for survival and therefore it's universal. However, food is so diverse and this diversity comes from culture. Many people, no matter their background, have food with a personal connection. Whether their connection to food hails from their friends and family or from their ancestral country, food can bring us together and can express our personal identity. The Chalan family connects to their ancestral country through traditional Ecuadorian food.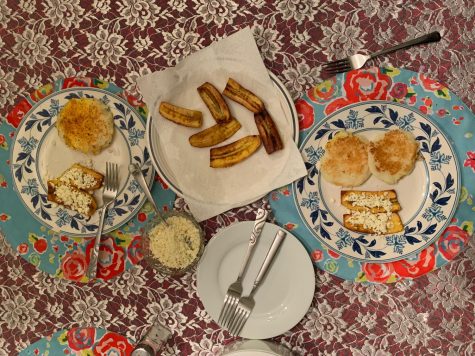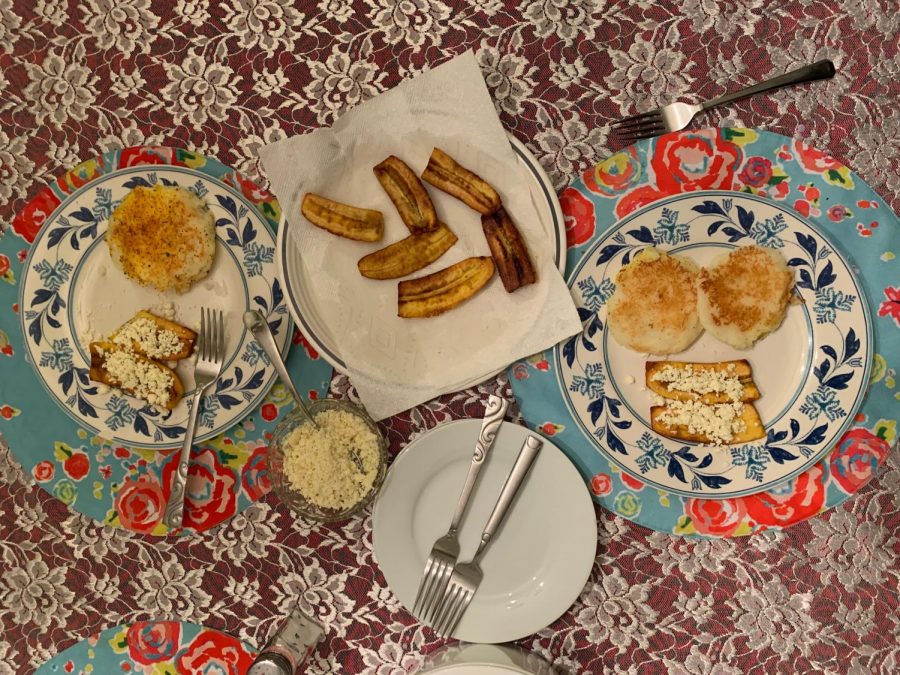 Senior Amy Chalan's family comes from Ecuador, a country with a diverse food culture due to its many territories and traditions. In each region of the country, one can find a varied selection of local delicacies and dishes. Amy's family's dishes are heavily inspired by their roots in Saraguro, a town located in the mountains of southern Ecuador.
Maria Vacacela, Amy's mom, was taught to cook by her mother and father. Throughout her childhood, Ms. Vacacela cooked meals for herself and her siblings. Both of her parents worked, and Ms. Vacacela and her older brother Antonio were given the responsibility for cooking for their younger siblings and family.
"I learned to cook when I was 7 years old. I remember that the first time I cooked I made rice for dinner. My parents asked me and my siblings to take turns to prepare the meals for the family so I pretty much learned from my older brother and sister while they cooked the meals," said Ms. Vacacela.
One of their favorite dishes is llapingachos, which are fried potato pancakes that are stuffed with cheese. They are a side dish traditionally served with pork, fried egg, avocado, and salad. However, llapingachos would make a hearty side to any meal.
Another simple dish they enjoy is plátanos con queso, which translates to "plantains with cheese." The plantains are fried until they are brown and sweet and served with a savory cheese on top as a side dish.
Llapingachos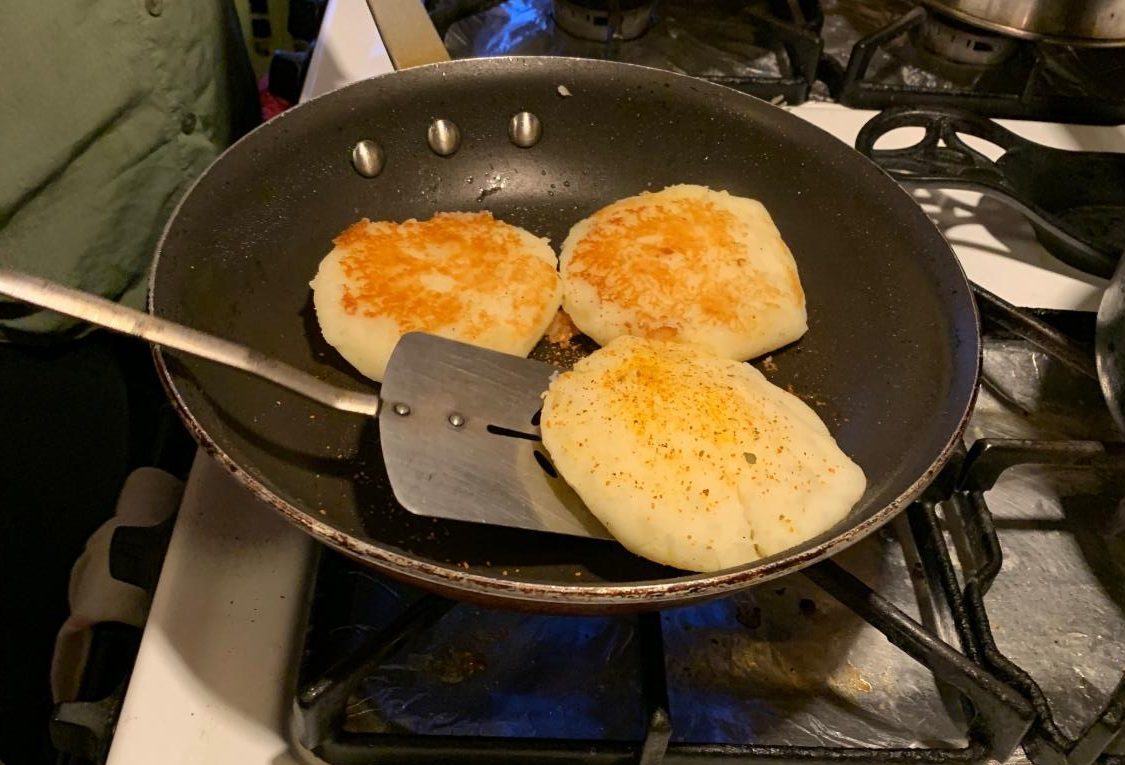 Ingredients:
-about 3 regular sized potatoes (one per pancake)
-roughly a tablespoon of butter
-salt and pepper for seasoning  
-oil for cooking
Optional:
-roughly ⅓ cup cheese (uncured Ecuadorian cheese preferable)
-seasoning for flavor (the Chalans use Sazón's Tropical Powder)
Peel the potatoes then cut them into squares.

Add the potato squares to a pot of boiling water. Add salt and pepper to the water for flavor and a little bit of oil can be added to make the potatoes soft. Cook the potatoes for roughly 15 to 20 minutes until the potatoes are soft and mashable.

When the potatoes are ready, take them off the heat and drain them. Put the potatoes into a bowl and use either a potato masher or fork to mash the potatoes. Add some salt and pepper for taste and stir in the butter. If you want to add seasoning then mix it in as well.

Scoop out the mashed potato and form it into a ball that's roughly 2 in. Then, mash the ball down with the palms of your hands to form a flat disc. If you want to add cheese, spoon about 2 healthy tablespoons of cheese into the center of the pancake then fold the sides into the middle and seal the edges together to form a ball with the cheese in the center. Flatten the ball between the palms of your hands again to form a disc.

Put your pancakes into a lightly oiled pan on medium heat. Since the potatoes are already cooked we are trying to form a crisp crust around the pancake. When the bottom shows a little brown, flip the pancake over and when that side shows a little brown they are done. Make sure you eat them hot!
Leave a Comment
Plátanos con queso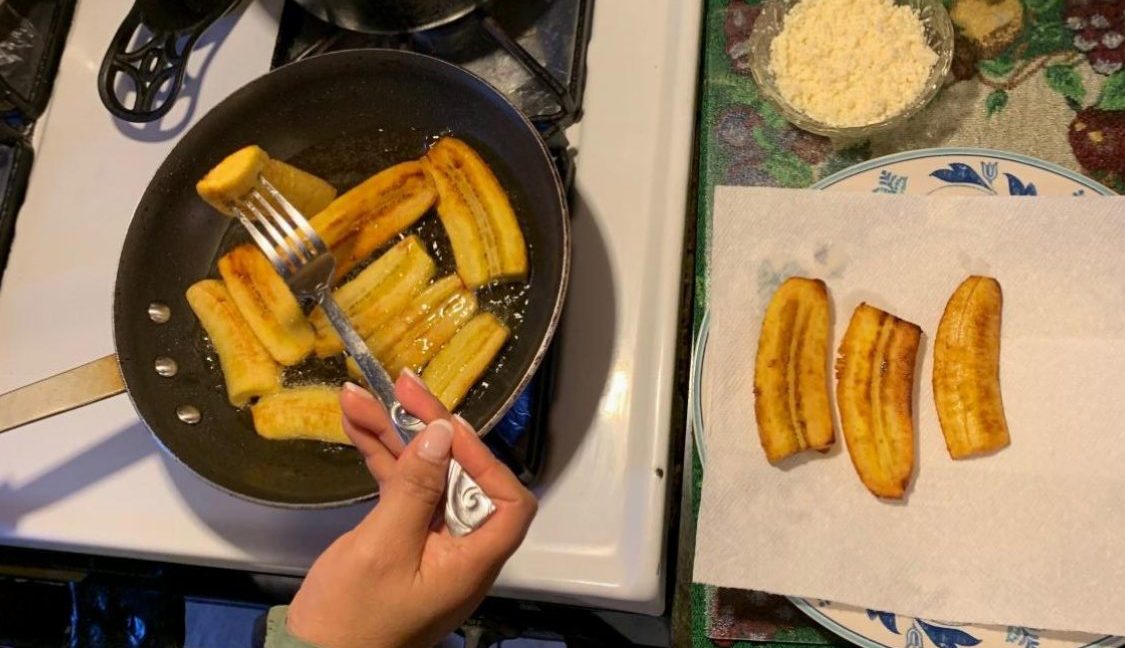 Ingredients:
-two ripe plantains (make sure the plantains are ripe so they are nice and sweet)
-roughly ⅓ cup crumbled uncured Ecuadorian cheese
Cut the plantains. Maria prefers to cut the plantains in half first and then cut the halves lengthwise.

Fill a pan with oil for frying and put it on medium heat. Let the oil sit until it is heated up enough; about a minute or two.

Carefully place plantains into the oil. Make sure not to burn yourself on the hot oil!

When plantains turn brown on the edges turn them over.

When the plantain is brown all around it's ready. Make sure not to leave them on too long so that they turn black. When taking the plantains out of the oil, put a paper towel on the plate you are placing them on to catch the extra oil.

Serve the plantains on a platter with the cheese next to them. When you take a plantain, sprinkle the cheese on top and it's ready to eat.
Leave a Comment