Llapingachos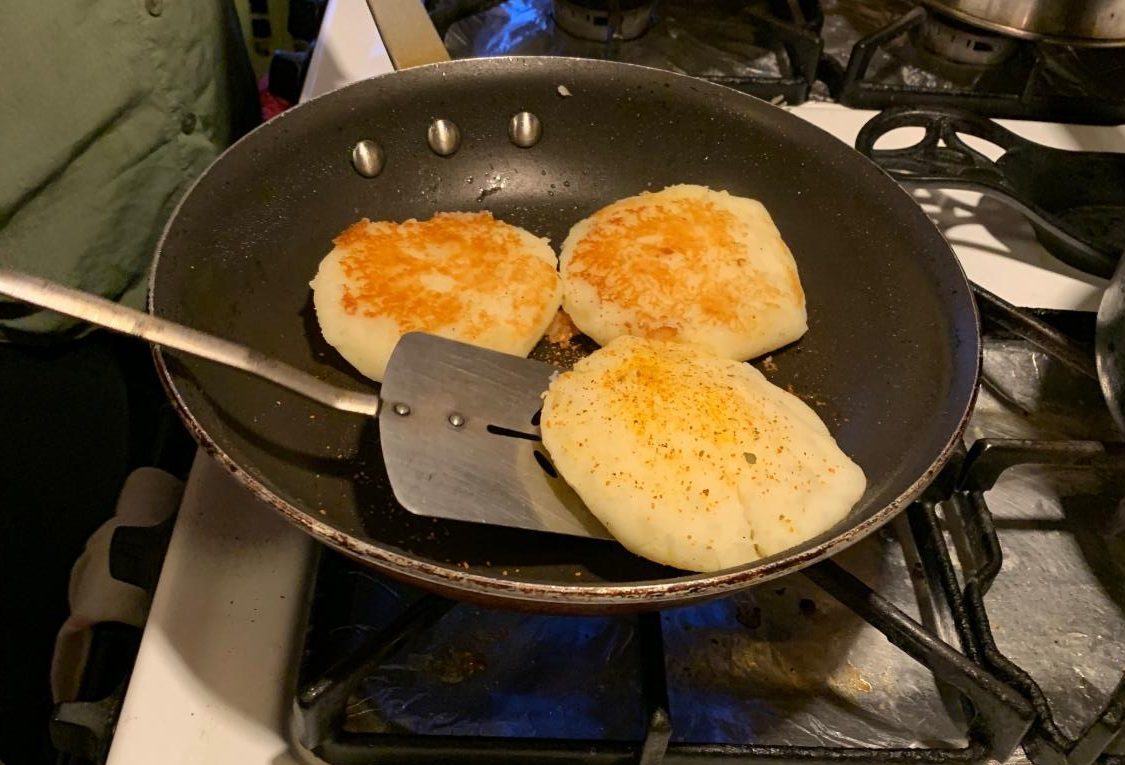 Ingredients:
-about 3 regular sized potatoes (one per pancake)
-roughly a tablespoon of butter
-salt and pepper for seasoning  
-oil for cooking
Optional:
-roughly ⅓ cup cheese (uncured Ecuadorian cheese preferable)
-seasoning for flavor (the Chalans use Sazón's Tropical Powder)
Peel the potatoes then cut them into squares.

Add the potato squares to a pot of boiling water. Add salt and pepper to the water for flavor and a little bit of oil can be added to make the potatoes soft. Cook the potatoes for roughly 15 to 20 minutes until the potatoes are soft and mashable.

When the potatoes are ready, take them off the heat and drain them. Put the potatoes into a bowl and use either a potato masher or fork to mash the potatoes. Add some salt and pepper for taste and stir in the butter. If you want to add seasoning then mix it in as well.

Scoop out the mashed potato and form it into a ball that's roughly 2 in. Then, mash the ball down with the palms of your hands to form a flat disc. If you want to add cheese, spoon about 2 healthy tablespoons of cheese into the center of the pancake then fold the sides into the middle and seal the edges together to form a ball with the cheese in the center. Flatten the ball between the palms of your hands again to form a disc.

Put your pancakes into a lightly oiled pan on medium heat. Since the potatoes are already cooked we are trying to form a crisp crust around the pancake. When the bottom shows a little brown, flip the pancake over and when that side shows a little brown they are done. Make sure you eat them hot!
Leave a Comment