Mr. Litvinov Tells His Story: From Citizen, to Scientist, to Dissident, to Hackley Teacher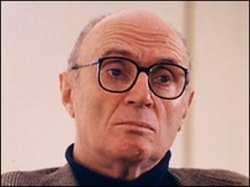 On January 9th in the Performing Arts Center, the former Soviet dissident Pavel Litvinov addressed his former colleagues and the current juniors and seniors of Hackley, speaking passionately in a distinct Russian accent about his life, and taking a closer look at history. 
"History is very important because it didn't erase, we don't start every day anew, there was yesterday and the day before yesterday, one hundred years, and two hundred years, and it's all part of us, of our civilization, that's why I want to say let's talk about history," said Mr. Litvinov. 
Litvinov was a teacher on the Hilltop for 30 years and an admired member of the Hackley community. His colleagues were quick to compliment him. History teacher Vladimir Kilmenko called him a "soft-spoken hero" in last year's Winter Review. Tenth grade dean and history teacher Melissa Stanek called him "brilliant." Upper School Director Andy King said that he was a great teacher to his physics and calculus students, allowing them to become better students and better citizens of the world. Mr. King said, "he tells them that they are future scientists who will make future changes."
For the students of Mr. Litvinov, there was always more to learn beyond the numbers. He actively taught his students to arrive at their own conclusions, not just while absorbing lessons as scientists and mathematicians, but also while examining the world around them, inspiring them everyday to make these "future changes." Mr. Litvinov knew well that freedom of the mind was a privilege. Years ago, he was in Russia fighting back against the authoritative state of the Soviet Union. 
Litvinov's grandfather, Maxim Litvinov, was Stalin's Foreign Minister in the 1930s. "He almost was arrested, but never was," Mr. Litvinov said.  "I remember very well although I was only 11 years old when he died. We were close friends," he added.
Born into a prominent family in Russia during Stalin's regime, Litvinov was conditioned to believe in the system. 
"When I was a kid I believed in all ideas, all communist ideas, that everybody was supposed to be equal, everybody has to receive equal salary for their work, they work as much as they can, and everybody is supposed to love their country," he described.
"Every day I would read the Soviet newspaper for children, and every day it had the same line: 'Thank You, Comrade Stalin, for our Happy Childhood.' And I always wanted to cry because I loved Comrade Stalin. Comrade Stalin was a man with a mustache and he lived, in my imagination, right across from my window," but things took a turn when Stalin died in 1953. 
"I was 13 years old, I believed that Stalin was God, and then gradually, we started to learn that Stalin was not God … Khrushchev became the head of the country, and he said Stalin was a criminal. We all started to get confused," he recalled. 
Around the time Mr. Litvinov graduated from high school, he started to really believe that "yes, there is some kind of good communism like social democracy …  and there is bad communism, Stalin, and we have to create something to change the regime into good communism." 
Litvinov was reading books, discovering Russian authors like Alexander Pushkin and Mikhail Lermontov. 
"What was important about all these Russian classical authors is that they put in the center the question about little suffering men who are oppressed by somebody strong, by somebody ruling over them, by government," said Litvinov
He was also writing books himself about the Moscow Show Trials, the biased judges he had encountered, and the unjust rulings his friends had endured for speaking out. Through all this, Litvinov became an active member of the Soviet dissident group against the regime. 
"We tried to get the Soviet Union to fulfill their own laws and to show their hypocrisy, that human rights, civil rights, and freedom of speech should be equal in every country," Litvinov described.
At the time, every word Mr. Litvinov read and wrote was forbidden by Soviet law. This system of censorship didn't officially exist, though.
 "Censorship existed in the United States, in Hitler's Germany, but not in [the] Soviet Union," Mr. Litvinov said, explaining the Soviet position. He was risking his freedom to get literature and new ideas out there, to circulate these books around Russia with his shoddy typewriter and camera. Mr. Litvinov recognized, even then, how ideas can cross into action. 
 "If you managed to get onion skin paper," Litvinov said, "you could make 10 copies or 15 copies." Onion skin paper was very thin and easier to make multiple copies at a time: "the last copy is very difficult to read, but if you're hungry, starving for the free word, you will read it."  
In 1968, the Soviet Union invaded Czechoslovakia, one of their allies, because the government wanted to break free of Soviet control and provide other opportunities aside from communism. When this happened, Mr. Litvinov went to Moscow's Red Square and protested. It was an act of pure bravery and heroism, like the figures Mr. Litvinov had read about for years.
"I knew what might happen," said Mr. Litvinov in last year's Winter Review,"In fact, I even expected worse. But I didn't feel afraid. [We] chose this path ourselves. Our attitude towards others was, if you want to join us, fine. If not, we don't judge. For us it was all about preserving our own sense of civic dignity. And yes, we were sent off to camps or locked up in psychiatric hospitals as punishment."
Litvinov was in turn beat up by the KGB and exiled to Siberia. He lived with his wife and his son for five years and worked as an electrician in the mines in conditions which were not much better than imprisonment. 
"I couldn't leave the village. It was tough, and cold," recalled Litvinov.  
Years later, while the Soviet government was trying to soften diplomatic relations with the U.S, they issued Litvinov an ultimatum: "either shut your mouth or leave forever." Litvinov, who knew he could never just keep quiet while his country was suffering, made the tough decision to leave his extended family and his home. 
In America, Litvinov eventually started teaching Hackley students who had tested out of the school's highest math and science programs, and continued to advocate for human rights in the States. This later included speaking out against post-Soviet authoritarian Russian President Vladimir Putin and advocating for global environmental action.
"We have today kind of a more democratic regime. It's not communism, it's not as bad, but it's a dangerous regime, it's ruled by a former secret policeman," Litvinov said, referencing Russian President Vladimir Putin's years as a KGB officer prior to the fall of the USSR. 
Thankfully, there are people who still continue to fight for peace. 
"The main thing all autocratic governments hate is light, so light, illumination is the main thing," he said, "They are like cockroaches, cockroaches stay in the dark, they are hiding from you." 
Mr. Litvinov continues to bring light to Russia. He is in touch with protesters and writers and he gives them voices by publishing their stories, fighting the continued censorship in Russia. Now, many people come to him with photos of individual picketers. 
People will "come with a sign on their chest, saying freedom to someone, or stop doing something, and they would stay alone and the police would come, beat them up and they could be arrested, either fined or arrested for several years occasionally. Because of iPhones, someone would take a picture and send it to me."
Right now, the country is disquieted over the possible invasion of Iran, and talk of a third world war after the U.S assasination of Qassem Soleimani, an Iranian Quds Force top general. Litvinov fears it may be time to ask if history really is repeating itself. 
"History doesn't repeat itself, but it rhymes," Litvinov said, referencing the Mark Twain quote.
 "I like that expression. Certain things remind us, and it's good that they remind us because we need it." Meaning, we need reminders of history as markers that people or countries are going down the wrong path, for perspective on what will come. 
History works that way, say Litvinov. "It reminds us because human nature changes very slowly, and we need it to remind us because then "we start to think and you can prevent it." So it is very important that we stay "very alert and pay attention to what happens." Prophetically, he adds, "even free countries can lose part or even all of their freedom."