Changes on Campus With Incoming Cold Weather
Winter has arrived on the Hilltop, and so have the problems of managing COVID procedures in colder weather. As we return from break, students should continue to expect changes on campus to help us adapt to new circumstances.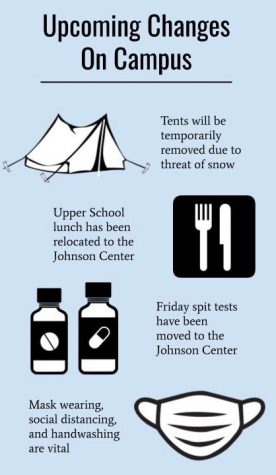 As many have already noticed, the tents which provided outdoor eating and classroom spaces are no longer on campus. Due to the possibility of snow which damages the tents, they are no longer a viable option. This presents the problem of finding a replacement for areas where students can eat lunch, as the amount of empty classrooms available during lunchtime is insufficient to accommodate students. As well, the classrooms are so spread out that teachers can't adequately monitor students and oversee social distancing practices. Because of this, Hackley set their sights up the hill to the Johnson Center as an alternative for lunchtime. 
Beginning on Wednesday, December 9th, Upper School lunch was officially relocated to the Johnson Center. Mr. King said the Johnson Center provides a, "larger and safer space for students to spread out and eat". The same lunch options are served in the lobby of the Johnson Center, and students have a plethora of seating options from the tables in the lobby to the bleachers of the varsity gym. 
However, this new development has been controversial among the student body. Many students complain about the long trek up to the Johnson Center in the cold weather, and the lines for food. Also, with the additional time it takes to walk up and stand in line, some students have a reduced amount of time to eat lunch. Sophomore Ella Rodriguez said, "The line for food is really cramped, and some of the seats where we eat are very close together".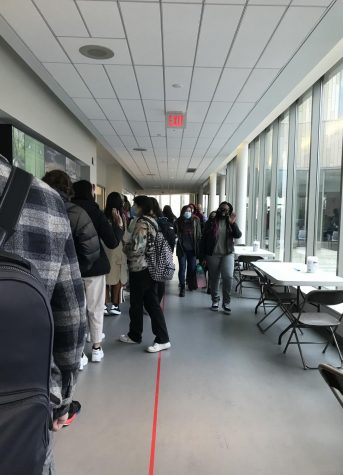 On the other hand some students don't mind the change on campus. Freshman Evan Jones thought moving up to the Johnson Center was, "a good idea because I saw a lot of overcrowding in the lunchroom and tables". Despite the longer walk, Evan said the move, "won't change anything in my schedule, and I'll still attend lunch". 
Weekly COVID-19 spit testing has also been relocated due to the cold weather. Starting on Friday, December 4th, spit testing was moved up to the Johnson Center. So far the transition has run smoothly and pool tests were held without any difficulties. Once the weather improves the tents will likely return for spit testing and outdoor eating, however, the Johnson Center provides a temporary solution. 
During this cold stretch, it's imperative that students remain vigilant and flexible to changes. As always, handwashing, social distancing, and mask-wearing are vital to maintaining the safety of our community. However, Mr. King remains confident in the school saying, "I believe we can do this. We've already done the improbable for months and we can keep doing it".  

Loading ...
Leave a Comment