Making a Change One Sample at a Time
With each passing year, Maxwel Lee '22 noticed that the reservoirs in Tarrytown would turn a sickly shade of green (covered in a layer of algae) during the summer months. The aggressive algae growth negatively affects the ecosystem, and it resulted in a fish kill years ago. Living a mere 500 yards away from the reservoirs, Maxwel was determined to find a solution to the ubiquitous problem. He constructed an impactful science research project.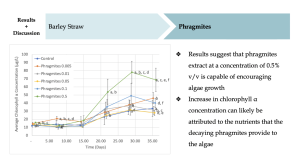 Maxwel explained, "One of the predominant species of algae is cyanobacteria, which has been linked to Alzheimer's and Dementia." To date, there is no proven natural solution to the algae growth, which is a pervasive problem worldwide. These factors inspired Maxwel to tackle the problem through an independent research project. He tracked and measured the water quality of the reservoirs for eighteen months prior to starting his experiment, and has specifically been studying the effects of barley straw extract and phragmites extract. Last year, Maxwel ran his experiment for six weeks and found that barley straw extract was capable of mitigating the algae growth at certain concentrations. Additionally, he found that phragmites extract contributes to growth. A potential solution uncovered by his research is trimming back the phragmites on the banks of the reservoirs to prevent them from falling into the water.
Not only is Maxwel Lee following his passion, but he is also making positive contributions to his local community.
"After presenting my findings to the Tarrytown Environmental Advisory Council (TEAC) they're considering trimming back the phragmites on the banks of the reservoirs in order to prevent them from falling into the water and spurring the algae growth," he said.
Outside of research, he pursues other interests such as running, mountain biking, and spending time with family. He is also the founder of an environmental club, Hackley Lake Keepers. Maxwel runs this club alongside three friends. They host seasonal clean-ups at the lakes where they pick up trash in order to preserve the surrounding parklands. Their mission statement is "To give back to the Tarrytown community, by partnering with the Tarrytown Environmental Advisory Council to monitor the ecosystem around the Tarrytown Lake Parkland and keep its surrounding waters and trail-ways clean".
Most importantly, Maxwel attributes his incredible success to trusted adults who supported him every step of the way. Mrs. Emma Olsen and Dr. Andrew Ying were integral to his development as a science student and as an active member of the community.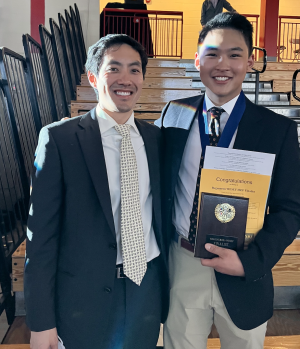 "I am very thankful for the assistance that Mrs. Olsen and Dr. Ying have provided throughout my research," he said. "Mrs. Olsen, thank you for being my advisor and mentor for the last 4 years. You provided me with endless support and advice, and have been integral in helping me persevere with my research. Dr. Ying, thank you for questioning and pushing me with challenging questions to make my research better, especially in regards to my experimental design, and thank you for all the valuable feedback throughout the research process."
Along with conducting research, Maxwel Lee relishes sharing his findings with others in the scientific community. Most recently, he participated in the Regeneron Westchester Science and Engineering Fair, which allows for high school students in the Westchester and Putnam counties to celebrate their original research projects. Placing as one of the top 20 students at the fair, Maxwel secured a spot in the International Science and Engineering Fair (ISEF), which will be taking place in Atlanta, Georgia during the month of May.
Maxwel hopes to continue his exploration of this research project at college the following year. His plan is to more closely analyze the interactions between barley straw extract and algae in order to isolate the mechanism that the extract uses. This would allow him to "engineer a more permanent, cost-effective solution to eutrophication."
Leave a Comment