Insider's Look on the Undefeated Field Hockey and Tennis Teams
The Hackley fall teams dominated this year and the girl's field hockey and tennis teams were no exception.
The girl's tennis team maintained their undefeated streak to win the Ivy Preparatory League Championship, a title they have now won over the past three years. The team was led by senior captains Grace Rainero and Sami Rowbottom, and there were three other seniors on the team with a total roster of 12 players. They are well coached by Head Coach David Sykes and Assistant Coach Gislaine Farias.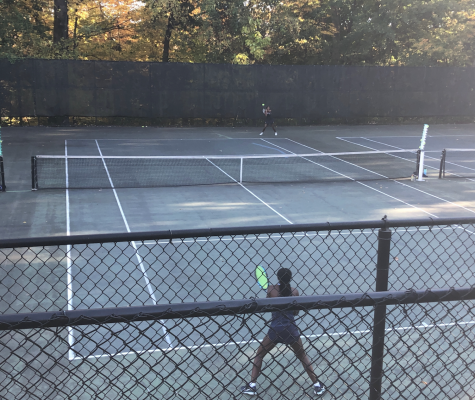 Junior Remi Myers, who played on the first doubles team, said captains Grace and Sami were "amazing this whole season. Sami was the team spirit person, if you needed someone to put a smile on your face she was there. Grace was always there to keep us focused and who we looked forward to motivate ourselves. She was this amazing tennis player and you see her work and you see her drive and you're like I want to be like that."
Even though they did not have a senior game because only a couple of seniors started while the rest played in the exhibition matches, the team still honored them by choreographing a special dance that the team performed for them.
The team's biggest rival has always been Poly Prep. They defeated them 3-2 in both the regular season and the Ivy League Championship. For the Ivy League Championship, they were ranked as the #1 seed. The first doubles team was Remi and eighth grader Riya Monday, the second doubles were freshmen Linnea Boettner and Skylar van Eck, and third singles was sophomore Bella Barriera who were able to pull away with the victory.
Remi feels that the team had "such a good connection as a group of players and we all bond so well. Even as new seniors come on, new freshmen, new players we always just gel so well together regardless of who you are or how well you play."
"
"We have such a good mindset and will to play which makes it so much fun and easier to win"
— Remi Myers
She loves this team because "I love tennis as a sport and the environment of everyone is so welcoming and if I a very stressful day at school I go to tennis and I am happy and I get to do something I love to do and I get to be around some of the nicest people you'll ever be around," Remi said.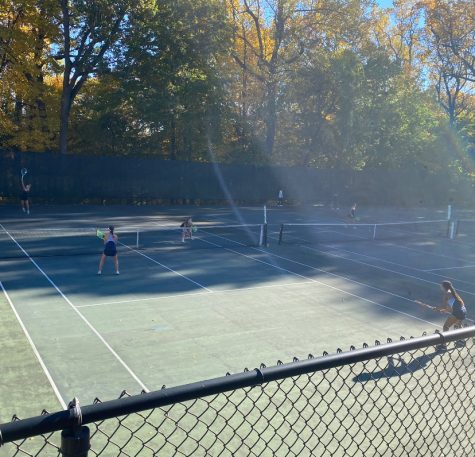 This close-knit team and mindset that they bring into every practice and match make it not hard to believe that they have been incredibly successful these past few years.
The girl's field hockey team has also maintained an undefeated record in the Ivy League led by Head Coach Jenny Leffler and Assistant Coach Carolyn Gaven. Senior Catie O'Rourke is a dominant force on the team and has also won one of the 'Lohud Player of the Week' titles. She received this title with 60.31% of the votes, equivalent to 8,172. She will continue to pursue field hockey while at Skidmore College next fall – to learn more about her recruitment read here.
The field hockey team is guided by senior captains Catie O'Rourke, Avery Leighton, Gabi Kapolutis, and Lucia Monteleone.
Junior Harper Kelsey believes the captains' leadership had been integral to their success. "They were always encouraging of other players and worked to make sure the team played their best, both as individuals and as a group," Harper said.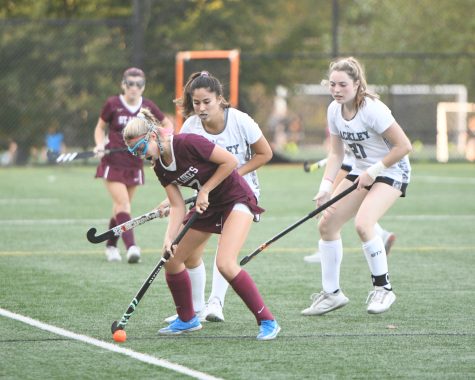 Besides the senior captains, there are five other seniors on the team. To celebrate their final fall season at Hackley, they had their senior game against Greenwich Country Day School on October 21. The game ended in a tie and was followed by a celebratory team dinner honoring the Class of 2023.
The Fieldston Eagles have been one of the team's fiercest rivals. "While we had two sound victories over Fieldston, they're always out for blood. 
"
Our team has been incredibly determined all season, which is what allowed us to be undefeated in the regular season"
— Harper Kelsey
The reason why the field hockey team has been successful this season is that "every issue that arose on the field during a game was thoroughly addressed in practice the next day," Harper said. This coaching has been a key aspect by addressing whatever needs attention before their next game.
Reflecting on the team dynamic of this season, Harper said, "there is a team culture of determination and steady improvement. I love the dedication of the team to the sport. Everyone is there to work their hardest and win."
This level of commitment and dedication has been fundamental, but the proof is in the pudding which the team has achieved through their stellar season.
Leave a Comment