Unordinary Sports: Mika Nuzum Balances Dance and Demanding School Work
 Ever come home from school and feel unmotivated? Well, for sophomore Mika Nuzum that is not an option as her day in dance has just begun. 
Mika first began dancing at the age of three but became serious around the age of five after watching the Nutcracker at the  New York City ballet and realizing that she wanted to pursue dance. Although she mainly does ballet, she also participates in other forms of dance such as Contemporary, which is modern and expressive. She is currently dancing at an advanced level and is a senior at the Greenwich Ballet Academy. This entails doing a majority of the lead roles in the performances and dancing en pointe, which means supporting all of a dancer's body weight on the tips of their toes. 
Mika has participated in many intensive ballet programs including the Manhattan Youth Ballet, the Bolshoi Russian Academy Ballet in New York City, the Kirov Ballet Academy in Washington D.C., and most recently the Boston Ballet Summer Dance Program. 
She also had the opportunity to go to Russia to train at the Vaganova Ballet School when she was eleven years old. The Vaganova method of ballet is a stricter Russian style of ballet, where dancers must be aware of their whole body while moving and while going from one movement to another.
She also trained in other styles of dance during summer intensives such as the Boston Ballet program. 
"My dance school is mainly ballet," Mika said, "We have contemporary classes and we occasionally do character, like folk dance. However, it is just mainly ballet and with these past summer intensives I have been able to try different forms of dance like jazz or lyrical or musical theater which I have really grown to like and started doing more of."
The world of ballet also comes with many challenges. Mika said that ballet can sometimes be a toxic environment with lots of competitiveness. As well, teachers and other girls can be mean towards each other, and there are other difficult factors such as struggles with body image and added pressure from parents. Maintaining a positive attitude despite any criticism or hate received from others is important in making sure that it does not affect a dancer's mental health or performance. She smiled while discussing that she was grateful to have a supportive mom along the way that does not put any unnecessary pressure on her.
With lots of training also comes injuries of all kinds such as over-exhausted hips, feet, and knees which Mika has experienced herself. Accepting where you are in the process of recovery is important in making sure that a dancer does not get discouraged, despite dealing with pain or injury. 
Mika is not going to go professional in dance because she feels that she is not personally built for the industry. Going professional in ballet for Mika and other dancers means switching to homeschooling and attending a professional dance school, which is not the route that Mika wants to nor can take. However, she wants to keep dancing in her future by applying to colleges that have good dance programs.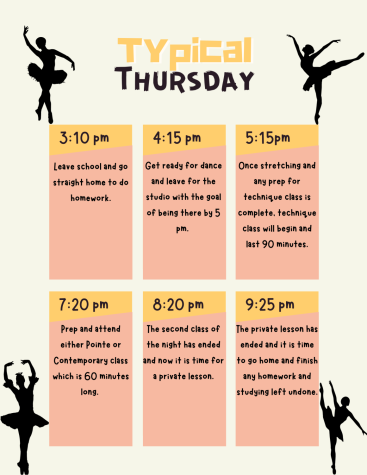 Another challenge Mika faces is keeping up with academics, especially at a school like Hackley where the workload can be rigorous. She dances a lot during the week, so doing homework and still being able to attend her classes is a challenge. Despite all of these challenges, she keeps dancing.
"As for moments when I wanted to quit, those haven't really happened for me," she said, "There are definitely times where I've been super discouraged but I just ignored that because I love dance and it makes me happy." 
Her dance schedule has two busy seasons; Nutcracker season and competition season. Nutcracker season takes place in mid-November and rehearsals are primarily on Fridays and Saturdays, but sometimes during the beginning of the week and Sundays. Right after school she goes to the studio and stays there until eight or nine at night. A Saturday for her is similar to a full school day of dance and goes from eleven in the morning to five at night.
Once the Nutcracker season ends, she resumes individual training and private lessons for the competition season. During the week she has specific sessions that will occur after her regular classes, meaning that she is at the studio till 9:30 at night or sometimes later. In general, between light rehearsals and her regular class schedule, she averages more than 24 hours of dance per week. 
 "These past few years have definitely been a reality check with the amount of work I have been getting, so there has definitely been a lot of restructuring and maintaining my homework load," she said.
She takes advantage of the weekends to get ahead in work and make sure she does not have too much to do during the week. She has also learned to prioritize sleep, meaning if she has too much work to do, she doesn't attend class. Her dance studio is very understanding of prioritizing her school work, as many others in her studio have to do the same on occasion. 
She also takes advantage of her free periods during school, and after school, she tries to complete all her work as soon as she gets home. She has around an hour to get work done before she heads to the studio and whenever she gets home, she finishes her work. So far this system has been working, but it can be difficult with bigger assignments such as English papers and other long-term projects. Teachers have been very understanding of her situation and have given her extensions to complete assignments.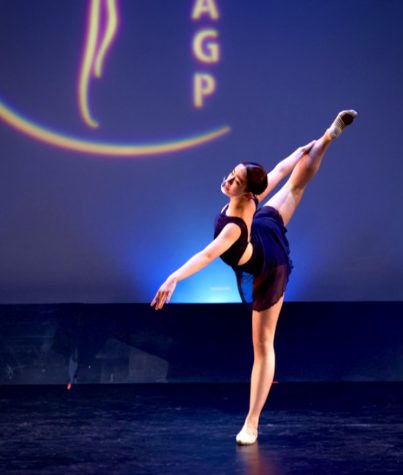 Mika's most noticeable accomplishments include; Top 10 at the Universal Ballet Competition, Top 24 twice for Youth America Grand Prix, and she also received scholarships for dance schools, which she has not taken because it would conflict with her academics. She has received a 25% scholarship to Kirov Ballet Academy, which is now closed, and a 25% scholarship to SLC Ballet in New York City for a summer intensive. 
The accomplishment she is most proud of is her role in the Nutcracker as Dewdrop this year because it was always a goal of hers from childhood. Going forward, she will be working with a non-profit organization called Flower Petals Adaptive Dance Company which is based in Greenwich, Connecticut.
"I have a lead role as Dewdrop which I have been wanting to do for the longest time — Since I was little Dewdrop was always my aim role,"  Mika said, "I will be teaching ballet and working with kids with special needs. This organization offers a safe space of self expression through dance for all people." 
Leave a Comment