Shades of Yale: Spreading a Message Through Harmony
On Friday, January 20th, Shades of Yale, an acapella group, visited the Upper and Middle schools to put on a performance in honor of Martin Luther King, Jr. Day. 
The acapella group consists of Yale students, including Hackley alum Taylor Robin '20. Their goal for their performances and tours since their founding 30 years ago is activism. They perform at different schools such as Hackley, to spread the black voice and diaspora.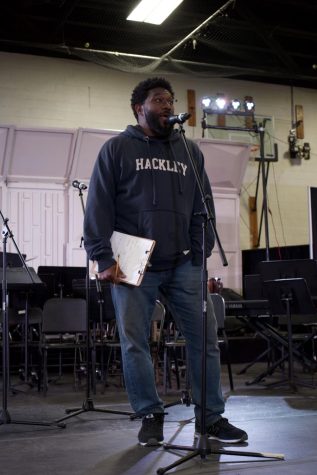 The assembly began when Performing Arts teacher Willie Teacher got the attention of the crowd by singing. Taylor Robin then came on stage to introduce the first song which was "Rain" by SWV. It was then followed by a song called "Mary" by Take 6, which was sung by Shades of Yale's Alejandra Mendez. 
A duet followed with Truth Templeton and Maxwell Brown singing "Fast Car" by Tracy Chapman. Other songs included "Smoking Out the Window" by Silk Sonic and "X Factor" by Lauryn Hill.
They ended their performance with one of their canon songs "Amen/We Shall Overcome" by the Soul Stirrers, which is one of 6 songs they consistently perform every year. 
Once the performance ended, they opened the floor to questions from Mr. Teacher and the audience; they received a wide variety of questions from how they pick the pieces they perform to who their dream person to perform in front of is. 
Leave a Comment