Having A Ball: Students Enjoy First Snowball in Four Years
Under the colorful flashing lights within the Zetkov gymnasium, students of all grade levels cast their notes and upcoming assignments away in exchange for a stress-free night at this year's Snowball. While Snowball may have objectively seemed like any other school dance (which in many regards it was), it was at its core a culmination of over three years of anticipation, months of planning, and the Community Council's tireless efforts to bring large-scale school-wide events back to the hilltop. 
The last Snowball dance (as it established itself in 2016) was held in January 2019, right before the COVID-19 pandemic changed the way these events could take place. Mask regulations, weekly COVID testing, and social distancing requirements made the annual Hackley dance as the community knew it impossible in order to keep everyone safe in compliance with the strict rules. 
However, as things progressively got more and more back to normal, even though Community Council was still not able to hold an official SnowBall, they settled for the next best thing: last year's GlowBall. The major difference between the two was the timing— GlowBall was held under the tents on Akin Common in March 2021 as outdoor events were deemed safer given the environment. 
While GlowBall was "a rather successful event with excellent turnout," said Senior Class President and acting All-School Vice President Aidan Aybar, Community Council was finally allowed this year to bring back Snowball in its true glory… Just three short years after it had last been held. 
During this time, a lot of things have changed, the most notable being the demolished Performing Arts Center (PAC) where the dance formerly took place. Aidan said that one of the most challenging elements about bringing back the Snowball was finding a location that brought back the ambiance of the PAC that could hold the number of students expected. 
After some careful deliberation, Community Council decided to hold SnowBall in the Zetkov gymnasium. While in hindsight everything turned out wonderfully, behind the scenes Community Council spent three hours before the event cleaning up Zetkov, which had become a dumping ground for spare tables, chairs, and other equipment. But once everything was moved to one half of the gym, it was only a matter of time before Zetkov was practically unrecognizable. 
Due to the hard work of the Community Council, once students ascended the stairs and passed through the holographic streamers—in suit with the theme— they were transported out of this world. There were green aliens decorating the classic photo booth, balloons drifting across the dancefloor, and childhood 2000s hits playing all night as curated by student DJs All-School President, Steven Li and Senior Class Agent, Wylie Churchill.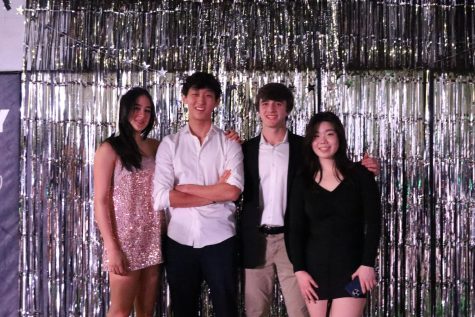 All in all, around 120 students attended and this year's council was successfully able to recreate Snowball after such a long hiatus. 
Previously "people in the cabinet knew what to expect for Snowball," said Aidan, "That's a little less true this year because everyone, except for the seniors, has only seen GlowBall last year, which while roughly modeled in the same way, was a different event… it was a little different this time with people not having that picture in their heads." 
Aidan said that this wasn't necessarily a bad thing, it provided flexibility, the opportunity to improve, and more creativity. 
While Council was a little nervous leading up to the dance after months and months of planning, once people started rolling in, the room was brought to life. As anyone there can attest, it was spirited and a great opportunity to do something fun amidst the cold winter months. 
"These are events that bring our community together—not everyone is hanging out on the weekends and it creates a space where you can hang out with friends, where you can hang out with people you might not know as well, with your classmates that you spend so much time within a different setting," Aidan said. 
"It was really fun!," said senior Ella Sonnenburg, "I thought it was really special to dance to Taylor Swift with my history teacher… I don't think I would have been able to do something like that without an event like Snowball." 
These events are especially important during such a stressful time in the middle of the second trimester when the next school break is months away in March. 
School dances like these also work to unify the student body. 
"We talk about events like the Stings and the Coffeehouses, where Hackley sort of becomes that social hub for people (particularly those who live all over and underclassmen who cannot necessarily drive). It can be a challenge to have opportunities to socialize easily. Being able to spend a Saturday night at Hackley creates a nice space for that," said Aidan. 
Students also really appreciated the hard work and effort Community Council put in to make the night happen."We are so lucky to have students and staff that are so dedicated to bringing the community together," said senior Zara Haider. 
Aidan devotes hours a week to events like this.
"It's something that brings people joy. It's something that improves people's weekends. And we are happy to do that kind of thing," Aidan said.
As Snowball was a smashing success, Council is now shifting to working on their next project which will be announced in the coming weeks, which, if it is anything like Snowball, is bound to be an amazing time for all who attend. 
Leave a Comment