Spotlight of Hackley's Very Own Former Dial Journalist: Will Bunch
Hackley's very own Will Bunch was on The Dial and said that "45 years later a lot of what I learned in that class has really stayed with me all these years". 
Hackley alumnus and journalist Will Bunch started his career as a journalist at Hackley on The Dial then continued at Brown University. After different jobs, he now works with the Philadelphia Inquirer and has published several books.
Reflecting on his work on The Dial, "it was a great place to learn and what you did for The Dial is what you do for a big newspaper like the Philadelphia Inquirer." The Dial taught invaluable lessons like reporting stories, interviewing people, and how to produce a newspaper by formulating the layout. This was 25 years before the internet was even the figment of people's imagination so print editions were placed all throughout campus.
"
it was a great place to learn and what you did for The Dial is what you do for a big newspaper like the Philadelphia Inquirer
— Will Bunch
While working for the Philadelphia Daily News, Bunch wrote a lot of great stories and eventually became the senior writer. Around the 2000s he became interested in opinion journalism. This was around the time that vlogs were starting to gain traction. Taking inspiration from this trend, he did a vlog for the Daily News called Attytood (the Philadelphia accent for pronouncing "attitude"). So he was able to use a wide array of ways to present pieces for the Daily News. This work allowed him to make more of a name for himself, especially because some of his readers expanded beyond the Philadelphia scope.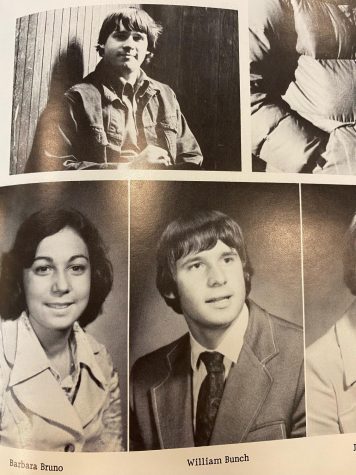 The Dial also led him to some fun outside of the classroom. Bunch spent a lot of his time in the second-floor offices to the point where after lacrosse practice he would take a nap there. Sometimes he would be there very late on a Friday night and one of his friends who later became the editor of the newspaper dragged him to a dance at the Masters School not far away from Hackley where he met his junior prom date!
Outside of the newspaper, Bunch was an avid member of many teams including football, wrestling, and switching from track and field to lacrosse. He also spent one year on student government.
Football was his number one sport and during his time he was coached by Robert Pickert. His team did not even consist of 20 people (11 people are on the field at once) so people filled roles in offense and defense. Nevertheless, the team was great and Bunch started as the left tackle on offense. They also won the league championship (which was then the Fairchester League) in his junior and senior years. He does not consider himself to be a natural athlete but he still loves sports and because of Hackley's size and mindset it gave him an opportunity to play which he is "eternally grateful for", Bunch added.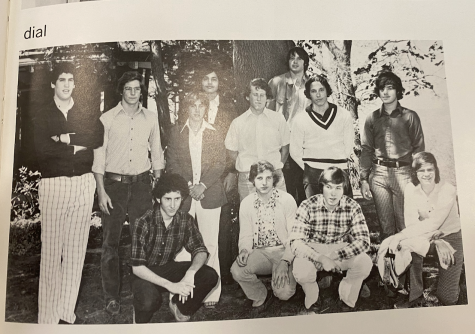 Bunch came back to Hackley one day to give a talk many years after he graduated and in the audience, he saw Coach Pickert. So he shared the story about they were at a practice one day and Coach Pickert said how important it is to be smart as a football player and he said "look at Will Bunch over there he played left tackle for us last year and he did a great job even though he has no athletic ability whatsoever." Bunch reflected that he "doesn't think he ever lived that down. But that is Hackley in a nutshell, you can get that opportunity to do sports."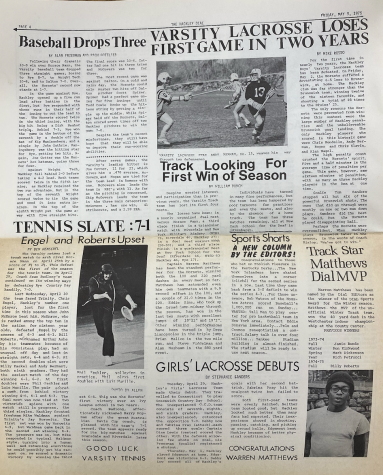 During Bunch's time on The Dial, the newspaper did not always experience smooth sailing. At the end of his junior year, a few people on the Dial had different ideas regarding what they wanted to do with the newspaper. One student appointed a new faculty advisor to the paper who then helped him change the staff around so a lot of people were upset about the manipulations (including Bunch) and decided to leave. This in turn made the paper lose a lot of its comradery so they formed their own literary magazine that lasted for a year. So this unfortunately made Bunch not work on the Dial his senior year instead focusing on the short-lived Hackley literary magazine. 
Will Bunch grew up in the Briarcliff/Ossining area and he attended Ossining public schools through the eighth grade until he attended Hackley for high school. When he was growing up he was considered the "shy kid" and his parents thought he would flourish more in a smaller and more focused school like Hackley. He already had some thoughts before attending Hackley that he at least wanted to be a writer and possibly a journalist. He was very interested in pursuing student journalism and working on Hackley's very own Dial.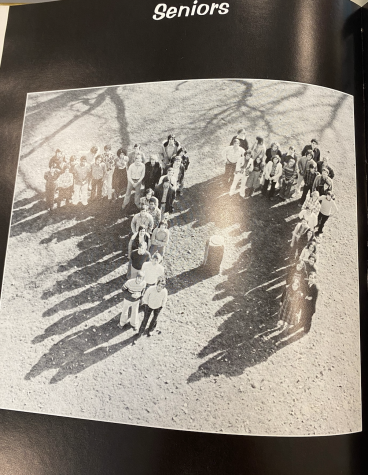 When he was a sophomore the editor of the paper was Keith Olbermann '75 – a sports journalist for most of his career who was also on Sports Center, had a prime-time show on MSNBC when he became a political commentator, and a sports correspondent for CNN as well as other local television and radio stations. So they covered stories about student council meetings, alumni issues and the new headmaster Donald Barr who was the father of William Barr, who would grow up to become Donald Trump's Attorney General.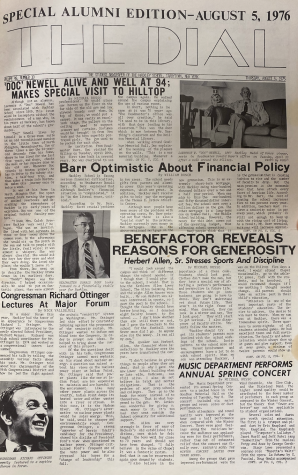 Another important story that circulated during Bunch's time at Hackley was the Watergate scandal that caused President Richard Nixon to resign in 1974. Journalism was a big part of this story because the Washington Post reporting team of Bob Woodward and Carl Bernstein helped to uncover the scandal. In Bunch's eyes, "journalism seemed like the way to change the world." 
It was not just him, a lot of people were interested in journalism at this time "as a way to take on the establishment and challenge the powerful people and the status quo," Bunch said. So there was a lot of excitement about journalism and he was excited to become a journalist and has not looked back. 
When he graduated Hackley in 1977 Bunch attended Brown University and he knew that he wanted to major in journalism. He then went out for the Brown Daily Herald and eventually became an editor as well as getting some internships. "I don't think I could have done it without The Dial and without Hackley," Bunch said.
Bunch came back to Hackley in 1998 as the commencement speaker for the graduating class.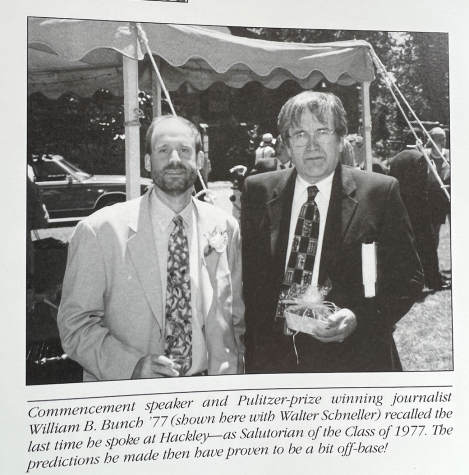 After Bunch graduated college in 1981, he followed the normal journalism route that entailed starting off working at a small newspaper and then transitioning to larger papers. He went to Western Pennsylvania for six months and then to Birmingham, Alabama which he referred to as "an adventure". Bunch remained in Alabama for three years and then came back to Newsday (where he had been an intern for previously) for ten years. While at Newsday he met his wife. They eventually got married and had two kids so for five years Bunch commuted from Bucks County, Pennsylvania to New York City.
Bunch also received the Pulitzer Prize in 1992 for Spot News Reporting regarding the coverage of a midnight subway derailment in Manhattan that left five passengers dead and more than 200 injured. 
In 1995, the New York edition of Newsday shutdown which forced Bunch to move to the Philadelphia Daily News – a smaller tabloid-style newspaper (the Philadelphia Daily News and Philadelphia Inquirer are owned by the same people). The Philadelphia Inquirer also had a nepotism rule that if your spouse worked there you were unable to work there yourself; this made him ineligible to begin working there in 1995. So he began his work for the Philadelphia Daily News on the seventh floor and the Philadelphia Inquirer was on the fourth floor. Though owned by the same people, the two newspapers were in competition with one another making it a slightly weird situation.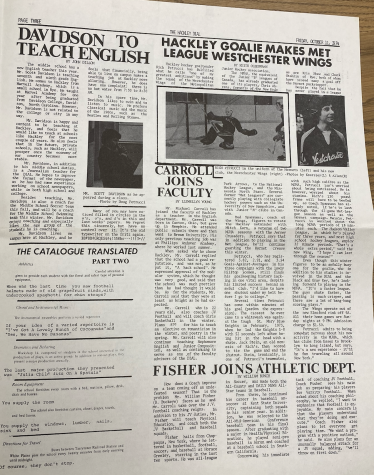 Over time the newspaper industry started to shrink leading to the Daily News and Inquirer merging their staff and falling under the name of Philadelphia Inquirer. The Daily News is still able to publish pieces but only sells 10,000 papers. The readers of the Daily News are so loyal that if the Philadelphia Inquirer ever stopped publishing the Daily News stories they know the readers would switch to different newspapers, thus keeping the incentive for both to remain afloat.
Since the Inquirer has a different policy on news and opinion, Bunch became a full-time opinion writer and stopped doing straight news stories. He became a columnist and now has a column that runs on the opinion page of the newspaper since 2017.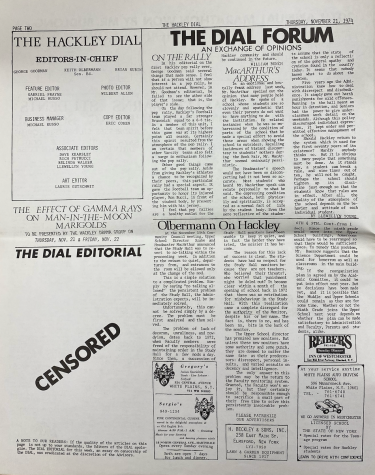 In addition to his work in daily journalism, Bunch has also authored several books. His newest book, After the Ivory Tower Falls, was published this past August. It is about the role higher education plays in our politics and the intersection between both. The book delves into how, as Bunch sees it, the Republican party became the party of the white working-class voters and the Democratic party became the party of mainly the educated people. 
To unpack this, Bunch told a recent history of college and looks at what has gone wrong with the college experience in America. For example: "why there is so much student debt, why it has become a meritocracy and it makes people angry, and how that affects peoples' political viewpoints." He was thinking about this issue for a while as a writer and decided to pitch this book out to his literary agent who liked it and then sent it out to a couple of publishers. The editor at William Morrow really liked the idea and the book was underway. Even though his book did not make the New York Times bestseller list, he got a great review from them. He also spoke on shows like NPR's Fresh Air and a podcast called Armchair Experts hosted by Dax Shepard.
Bunch also taught journalism for a couple of semesters as an adjunct professor at Temple University. He told students the first day: "to me the most important thing I've learned about what's important about becoming a writer is you have to believe that people care about what you have to say about a subject".
"
to me the most important thing I've learned about what's important about becoming a writer is you have to believe that people care about what you have to say about a subject
— Will Bunch
Will Bunch has accomplished so much since graduating from the Hilltop and the Dial cannot wait to see what the future holds for him as one of Hackley's very own journalists.
One of Will Bunch's final remarks is, "if you go into something with doubt like nobody cares about what I think about this, I think that will reflect in your writing. You have to have a lot of conviction that what you're writing and what you say matters and I think that's something you have to bring to every article."
Leave a Comment