Recap of HackMun 2023
This past Saturday, campus was buzzing with delegates, committees, and debate for Hackley's annual Model UN conference. The club, also known as HackMun club, spent months planning for this conference which hosts five schools from the Westchester area including Hackley, Brewster High School, Pelham Memorial High School, Rye High School and Ethical Culture Fieldston School.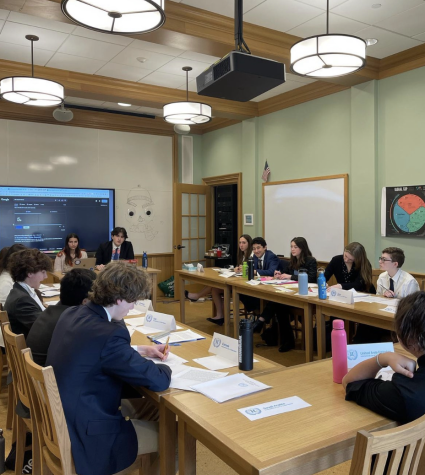 The event hosted over 30 delegates representing various countries in each committee. The conference was held from 9:00 a.m. to 5:00 p.m. and involved three committees. This included US Defaults on Debt Crisis Committee, Chinese Civil War Crisis Committee, and International Law of Outer Space General Assembly. 
   "This HackMun conference was a unique one as it was completely student run with hours of work poured into it from our leaders," said sophomore Vivek Malik, under-secretary of the club. The club features senior leaders Steven Yu, Advith Sharma, Tibet Yakut, and sophomore Vivek Malik. The club started by brainstorming committees that represent real world issues. They conducted detailed research for every group and wrote up informational  documents for the delegates. They also researched characters that played a part in these real world issues, who delegates would embody during the event.
 "Making sure delegates understand the committee topics as well as their characters is super important for a successful event which is why it takes so much time to research and find the right topics," Vivek said. Leaders also created a website to allow more organization and information for the delegates. Lastly, leaders had to train volunteers and new delegates to ensure a smooth transition during the real event. 
"The event was a success and we are really glad we could pull it off after exam week," Vivek said. 
Freshman Ben Iaderosa won the Outstanding Delegate award while representing India in the International Law of Outer Space General Assembly.
Future plans for the HackMun club include planning for next year's conference as well as attending Cornell's Model UN conferencein April.
The HackMun conference  successfully showcased one of the only fully student run events on campus and provided a great opportunity for students to come together and share their dedication for Model UN.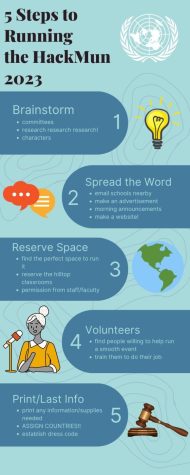 Leave a Comment